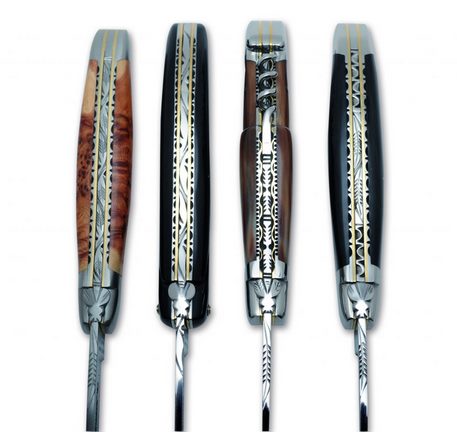 A wide choice of materials for handle
Laguiole Knife handle materials
We have selected the finest premium quality materials for Laguiole.Store, the internationnal Laguiole en Aubrac® online cutlery store !
Wooden handles
In French, exotic or European wood, the different handles of our Laguiole en Aubrac products will allow you to choose according to your tastes and preferences in terms of colors, textures and fine grain of veins.
Animal materials
Whether in crust of horn, in smooth, blond or dark horn, in bone or even in the tusk or molar of a fossilized mammoth, animal materials have been used since the origins of Laguiole knives.
Minerals
Mineral materials are unusual but particularly elegant as we offer here with semi-precious stones: Turquoise, malachite or larimar.
Shop Online !
Laguiole olive wood
Each Laguiole en Aubrac® knife made from olive tree is made from a single piece of wood for each side, revealing its beauty and the grain according to the tree from which it was made. Olive wood is a natural material that has few pores and is very resistant.
The know-how of working with olive wood is typical of Mediterranean craftsmanship. It comes from ancestral know-how where entire pieces of furniture were once made from this noble material. This know-how has evolved over time and it has now found other more contemporary supports: on folding knives, knives and forks and Laguiole table and cutlery and many others.
It is a material that will allow you to consume sustainably. In fact, products with olive wood handles keep for a long time.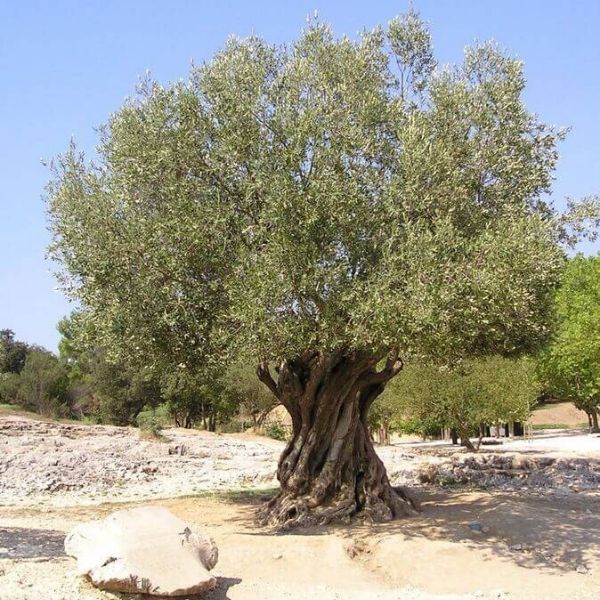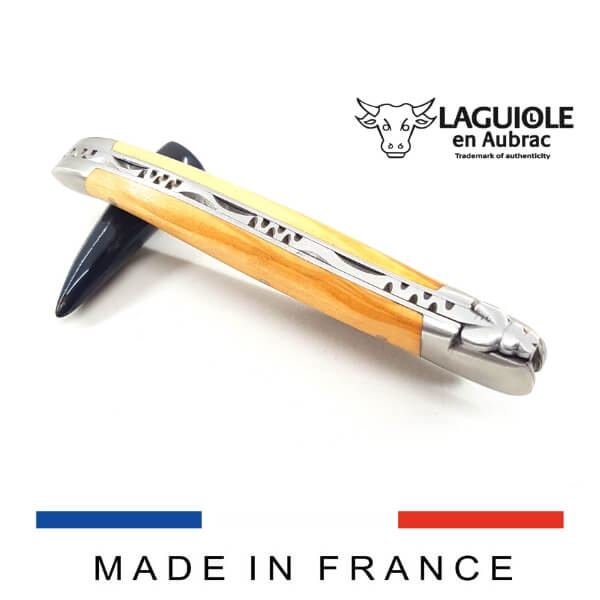 Laguiole Ebony wood
African ebony, also called Gabon ebony, has the main characteristics: its deep black color and high density. It has been known since ancient times for its particular natural color.
The main characteristics of ebony are its black color and high density.
We find black ebony in the manufacture of contemporary furniture with a very marked design, on the Laguiole en Aubrac knives it is a perfect combination between tradition of form and modernity of material.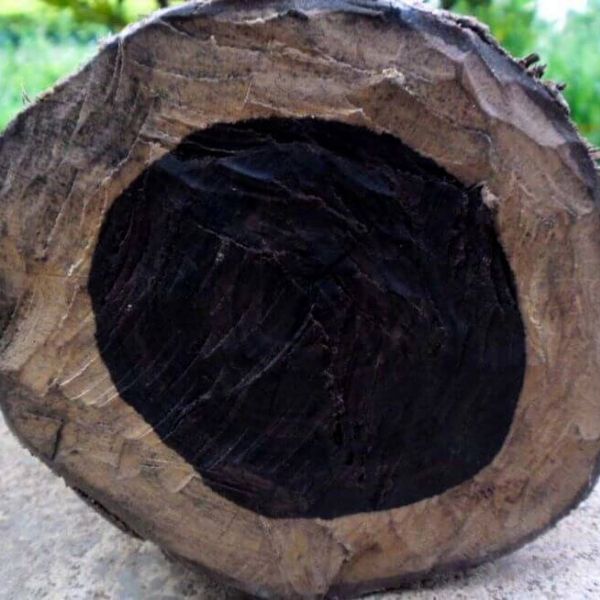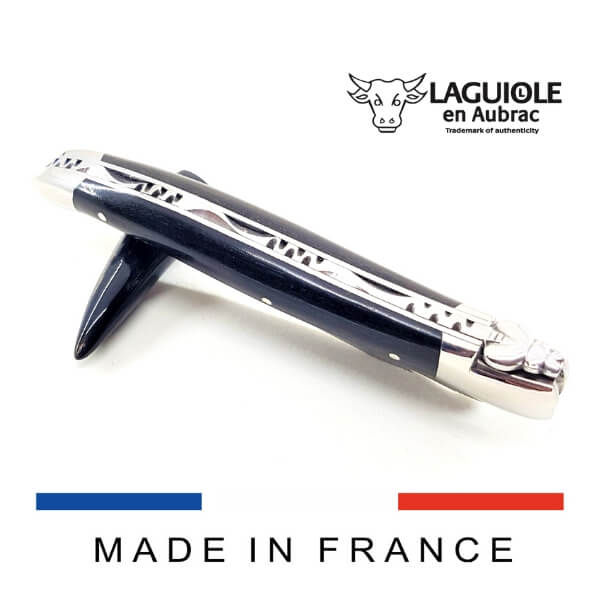 Laguiole Juniper wood
Juniper is a small tree that lives in the Mediterranean coastal region. It has the particularity of having a pleasant, slightly peppery fragrance that emanates from it. The juniper wood handles retain this pleasant smell throughout their life.
The English know this wood very well since they have been making their Gin with its berries for centuries … and everyone knows the juniper berries which flavor sauerkraut.
It is a tree or shrub that appreciates arid, rocky places, on limestone or acid soils. Juniper can reach 14 meters but its dimensions are generally much smaller (1 to 2 meters). The foliage of this tree consists of needles with a fine sharp point. The flowers of the juniper form small cones.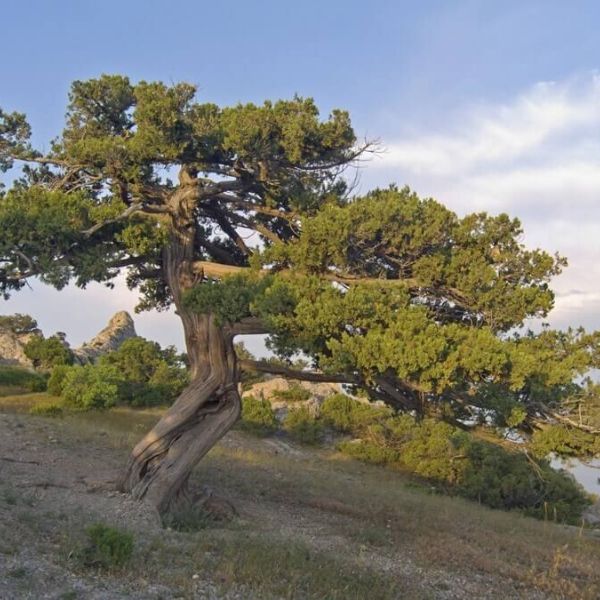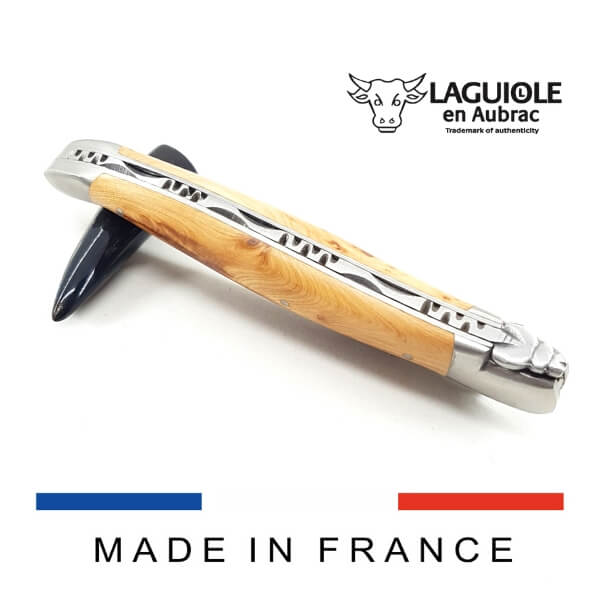 Laguiole Wenge wood
The wooden handles of Wenge have an airy and homogeneous grain. It presents on the transverse and radial faces (those worked in cutlery) a finely striated uniform figure, with an alternation of very dark and lighter streaks dark brown chocolate / milk chocolate.
The dark streaks are due to the fibrous tissue and the light streaks to the parenchyma. This alternation reveals a very beautiful flame figure on the tangential face.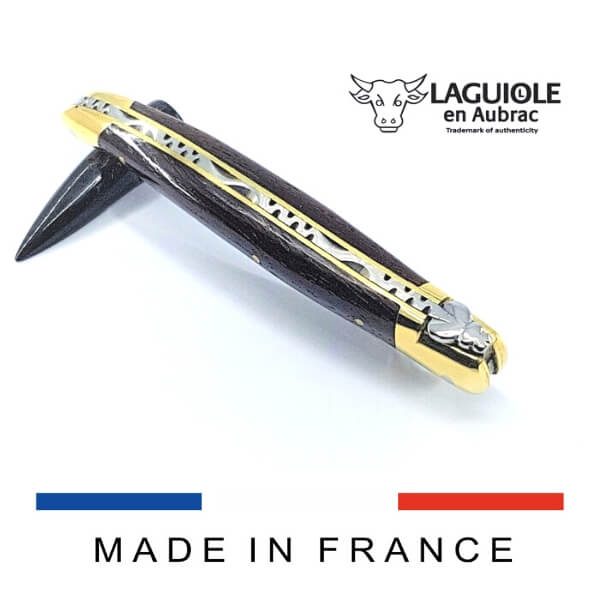 Laguiole Vinestock
Laguiole knives with vinestock handles (also called souquettes) come from various origins. Why uproot vines since great wines are born from old vines?
Unfortunately, the stumps sometimes die in the prime of their life, long before the plot is completely exhausted, which will require complete uprooting, rest and replanting. For those feet that have left too early, there is a practice of supplanting them with young plants: this is the technique of complantation.
The vines are pulled up and replaced by new plants as they die off. The wood is then dried, then cut into chips to finally be mounted as handles.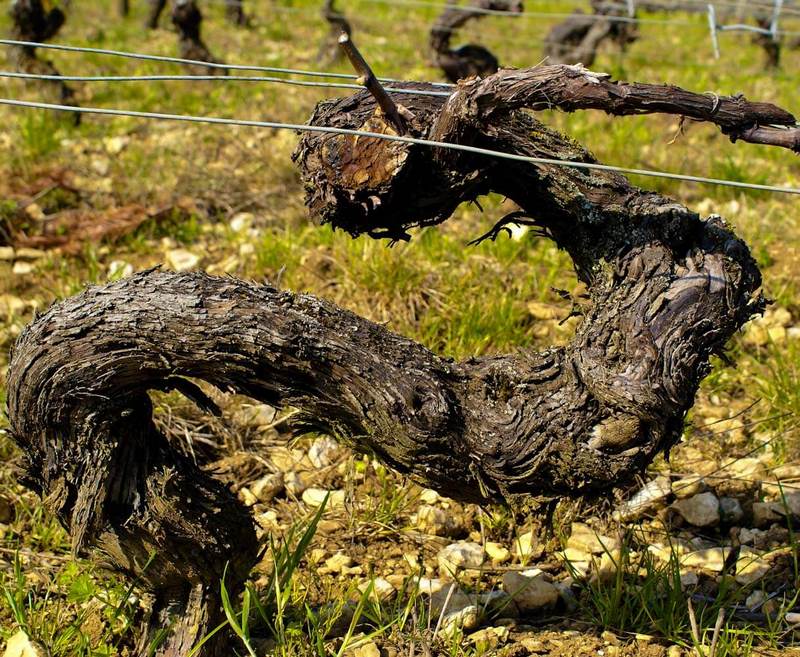 Laguiole pink : Red Heart
The wooden knife handles Red heart is a very beautiful pink to red color. It is a wood with very good mechanical strength, especially for turning cutlery handles.
It replaces the famous rosewood now subject to drastic regulations on its exploitation and felling. Indeed, poor governance and corruption have led to an anarchic situation without control over timber harvesting resulting in a total rush towards widespread logging of rosewood in protected areas across Madagascar, and it will take years for that to happen. the environment can recover.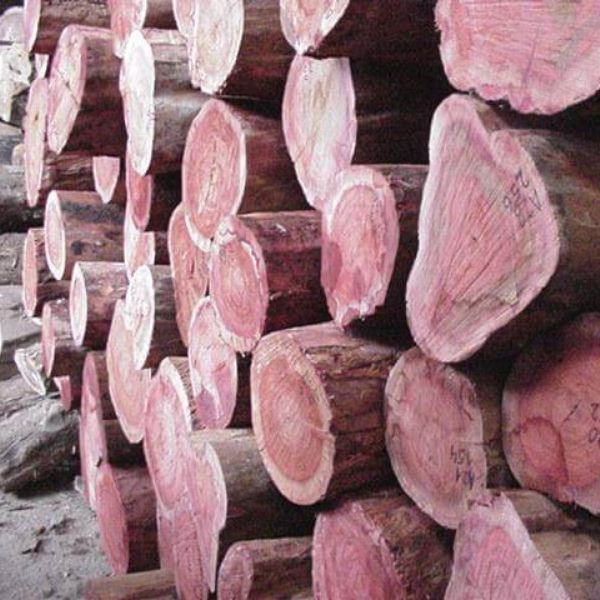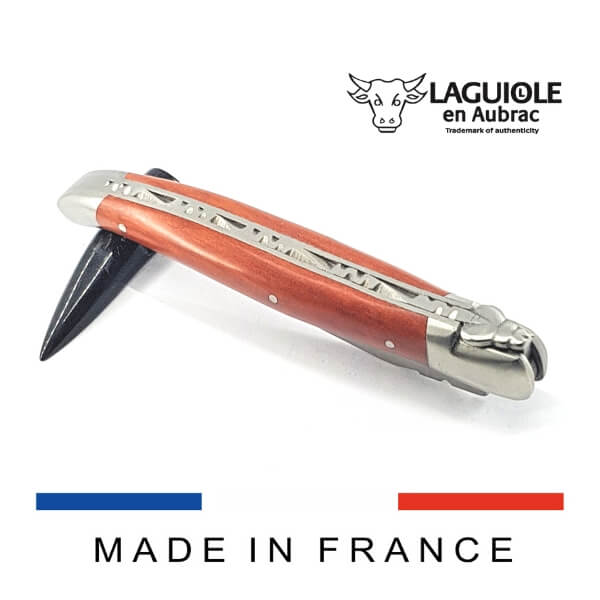 Laguiole Snakewood
Laguiole with snakewood handle come from South America, in particular Guyana and Surinam. It is characterized by patterns surprisingly resembling those of the skin of a snake. Which earned him the nickname Snakewood in English.
The original density of the reddish-brown speckled loveette is important. it is moreover one of the rare woods not to float.
Its resistance and hardness make it capable of undergoing strong pressure. Thus, it was originally used for the manufacture of block letters.
On this tree more than twenty meters high, only 15 to 25 cm of the diameter of the trunk can be exploited. This is the reason why it is used in small art crafts.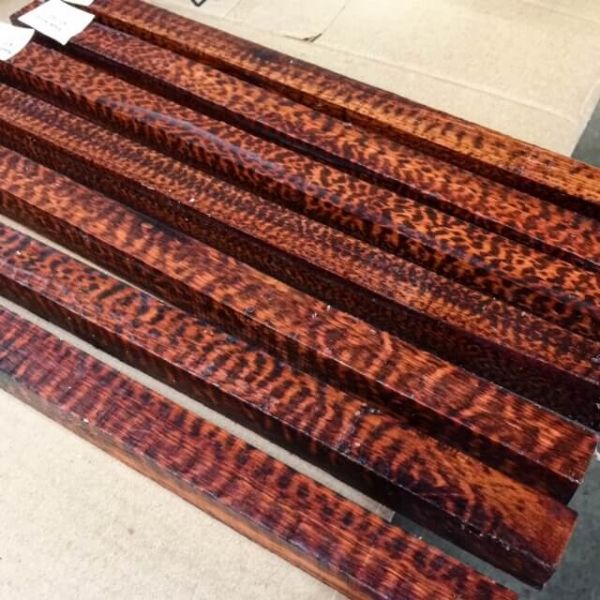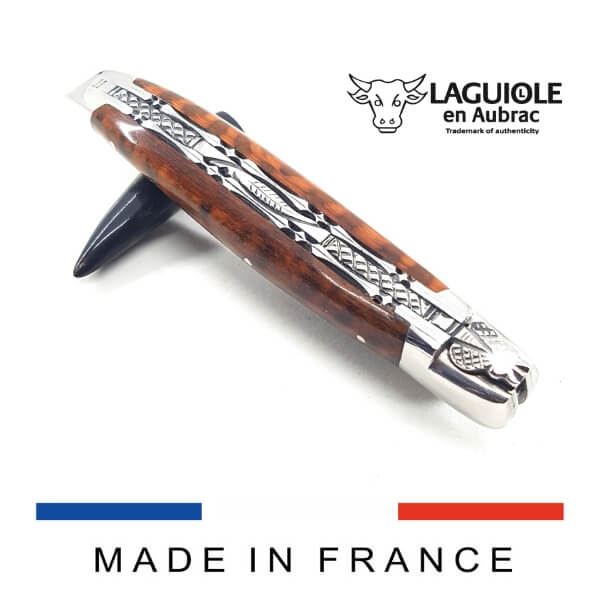 Laguiole Pistachio
The pistachio tree is the same family as the Mango tree or Sumac, it is a French wood originating in the Mediterranean basin. This three to five meter shrub has a hardwood which is very often used in cabinet making.
It is a pretty wood that has many colors. From brown to green, going through yellow to red and even white. It is often worked in marquetry and ornamentation.
We have a particular affection for Laguiole aubrac knives with pistachio wood handles because they give them a real visual originality.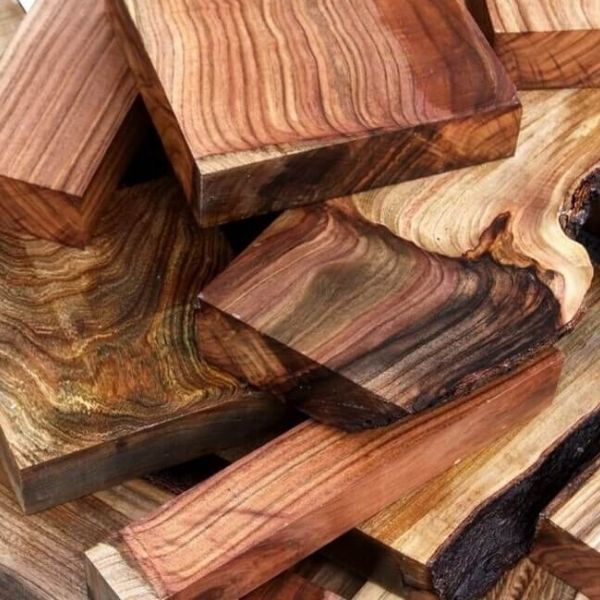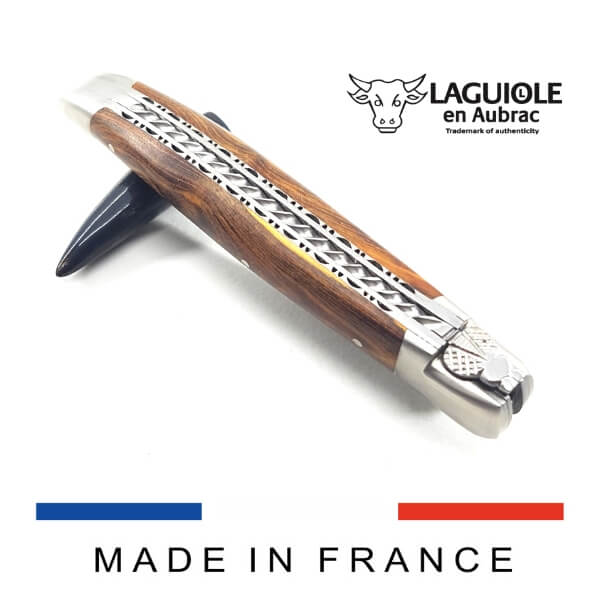 Laguiole Thuya
The Laguiole knives in Thuja wood come from a tree of the conifer family, close to cedar. It is a very beautiful textured wood coming from its root. Although one could confuse it with juniper wood with its many small knots, this wood is darker and more uniform in color. In addition it is often mounted on a thin ebony plate, it is an additional indicator to dissociate them in addition to the smell.
Most of the products made from cedar are classified as luxury goods, for example: high-end car accessories, trophies, luxury cigar boxes, branded pens. Its use is popular and multiple.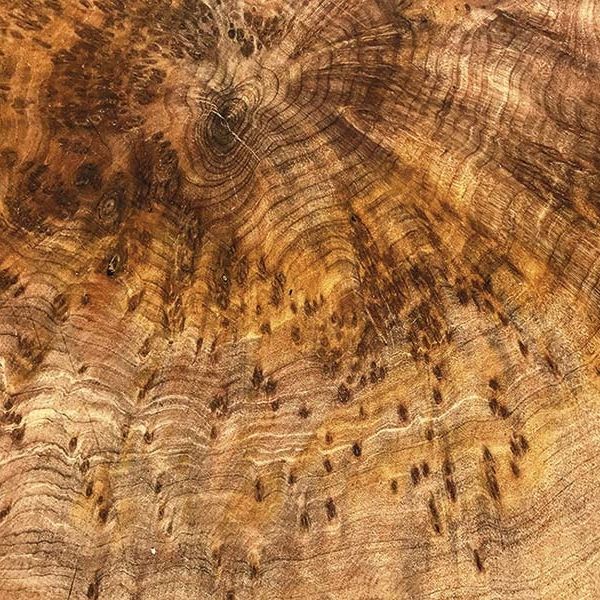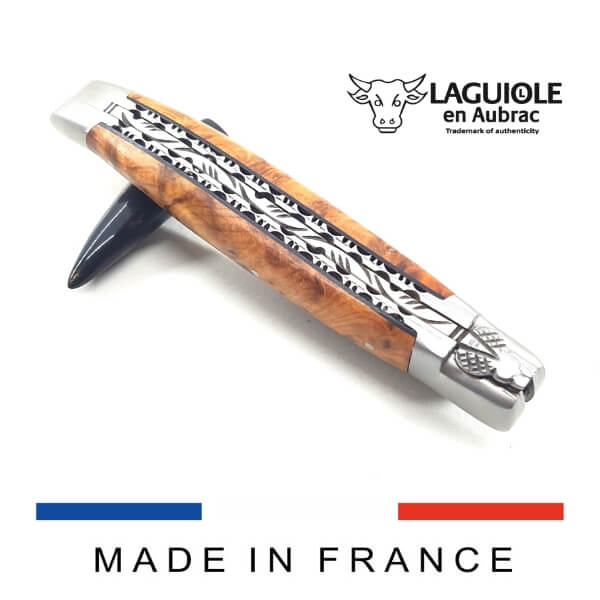 Laguiole colored Burl
The handles of these Laguiole are particularly popular, because as with all loupes, the patterns are fine and unique. This material is very popular across the Atlantic for the manufacture of musical instruments and more particularly guitars. It is a wood which is stabilized with transparent resin in order to optimize its resistance.
Then it is colored in order to highlight the elegant and refined veins of this wood.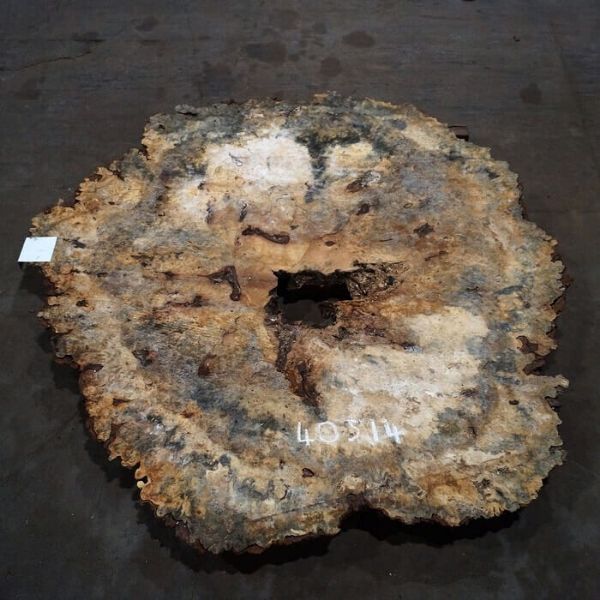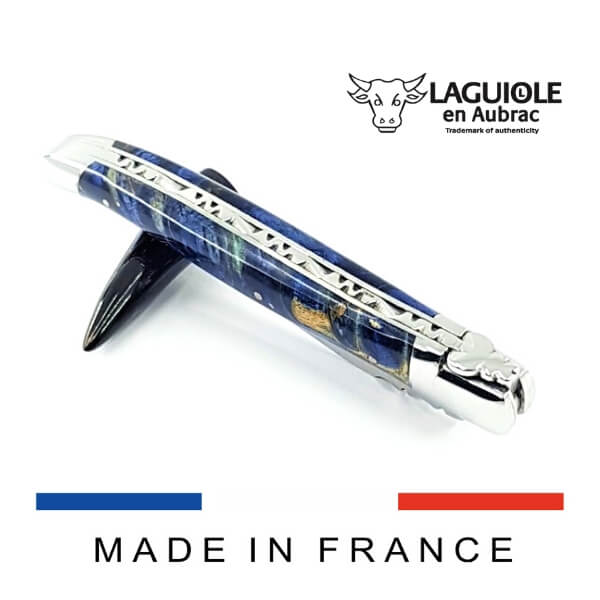 Laguiole Walnut Wood
Walnut wood is admirably suited to kitchen items: cutting boards, kitchen knife handles. It is in its lengths that it shows all its strengths. It is a hard, ribbed wood and has always been prized by our ancestors for its longevity and strength while keeping its dark color.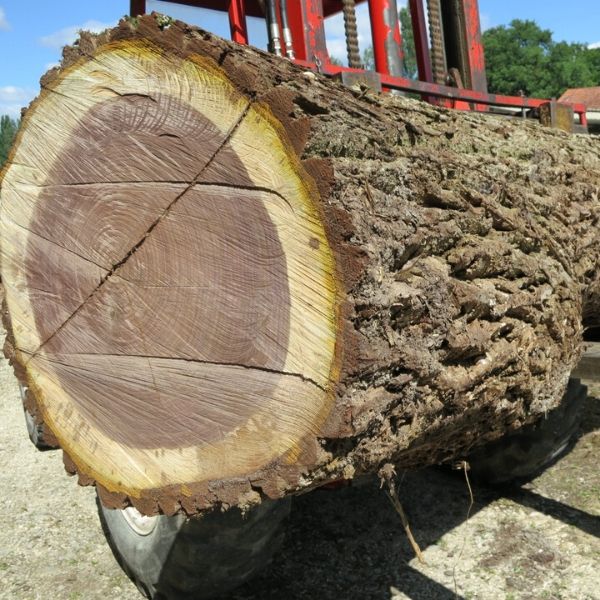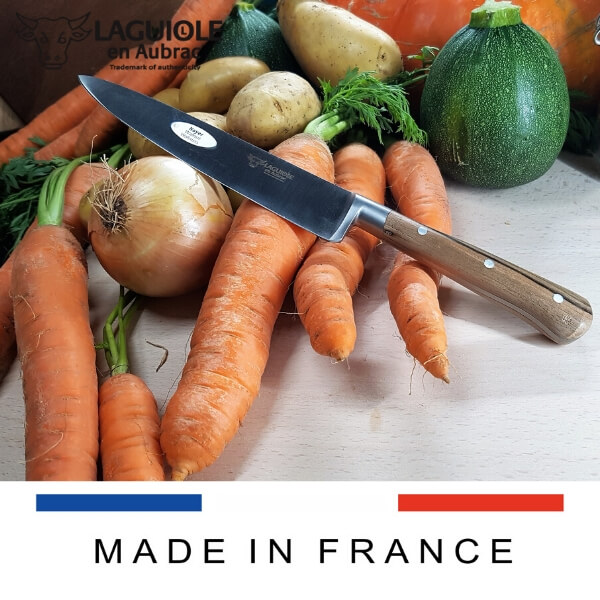 Laguiole Horn tip
The horn tip is undoubtedly a reference material in cutlery and more particularly on Laguiole knives.
It is indicated as a horn tip because it is the highest part of the horn which is used for its very specific assets: it is rich in flamed nuance, dense and massive.
The Zébu horn tip comes from India, because they are large with more materials, while being covered with variations in many tones of colors.
It is an elegant, natural material, very pleasant in the hand.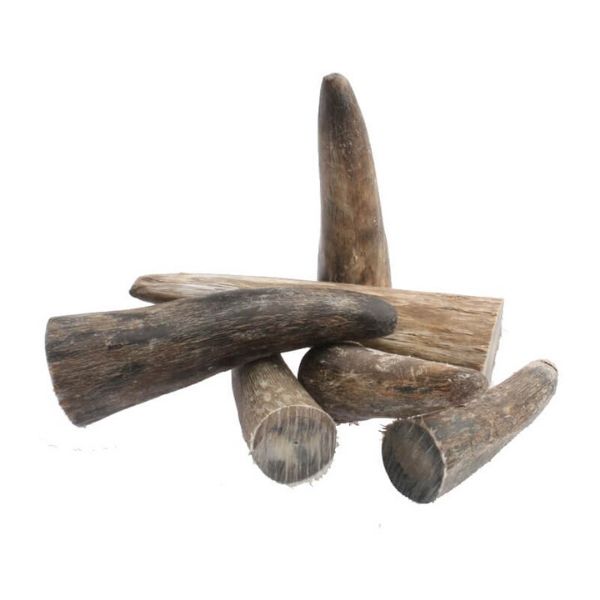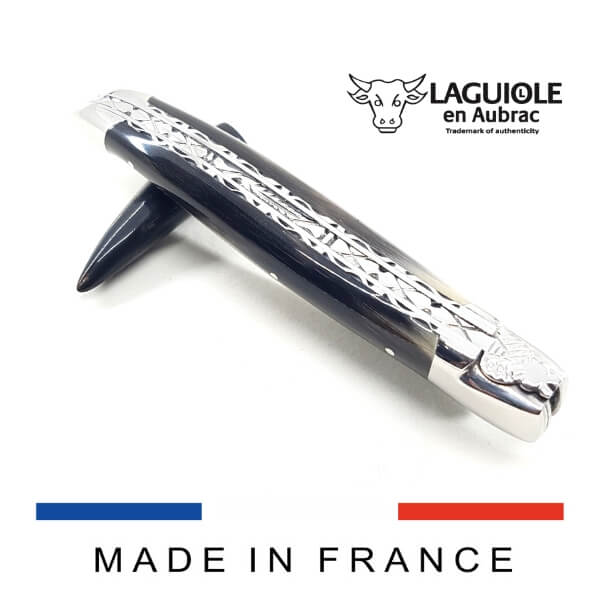 Laguiole Black Buffalo Horn (Crust & Heart)
Just like the horn tip, the buffalo horn is an elegant, natural material, very pleasant in the hand.
Black in color with fine white / gray edging for the black buffalo horn tip heart, has full black with a rugged and rough appearance for the buffalo horn crust. One material, two different results!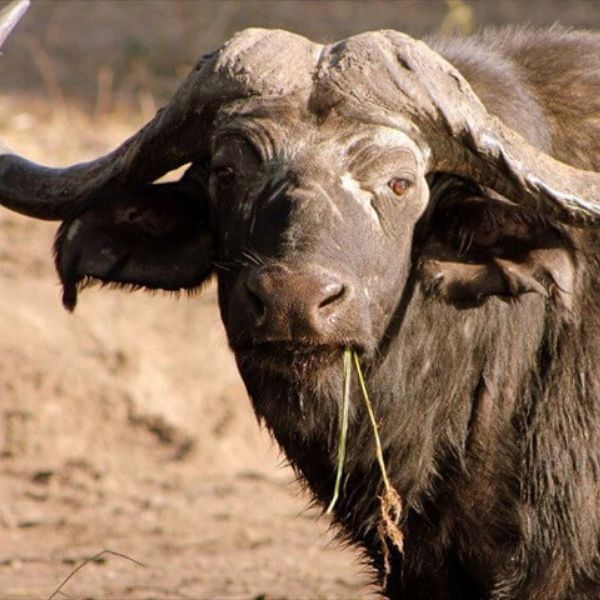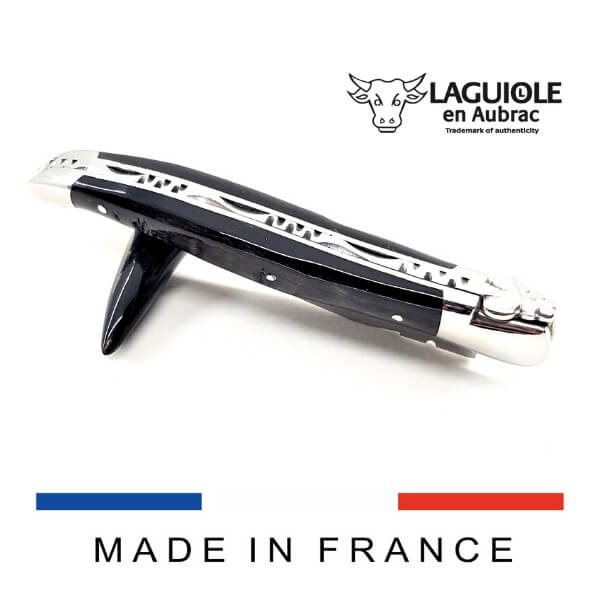 Laguiole Beef Bone
Bone is a handle material used by humans since the dawn of time. Its color is milky white to beige or off-white. Strictly speaking, there is no uniformity.
The color changes from one handle to another. This is the reason why it can be long in order to obtain a 28 piece cutlery set in the same tones.
The bone is often crossed with small black lines. It is impossible to confuse bone and ivory thanks to this important detail!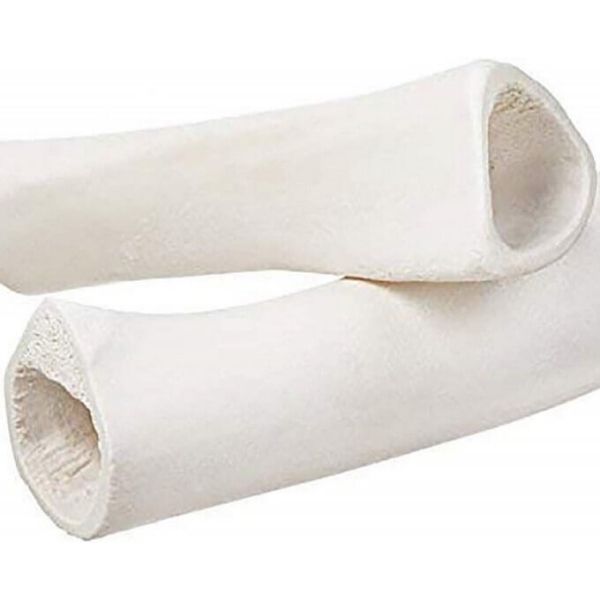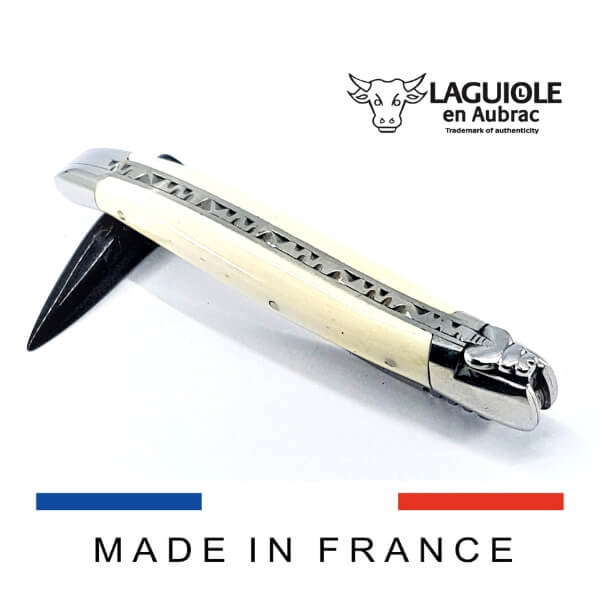 Laguiole Deer Antler
The handles of deer antler laguiole are a continuation of what has been done since the dawn of time: they are used as a handle, and in our time immemorial weapons patiently carved on a stone.
The deer antler or "Panache" is a bony organ of the deer family coming from the dense forests of the continent and the islands of South Asia.
The antlers grow and fall every year, no harm is done to the animal either to consume it or to its famous antlers.
Its strength and the ease with which it is worked make it an interesting choice, especially since it is very hard, thick and without porosities.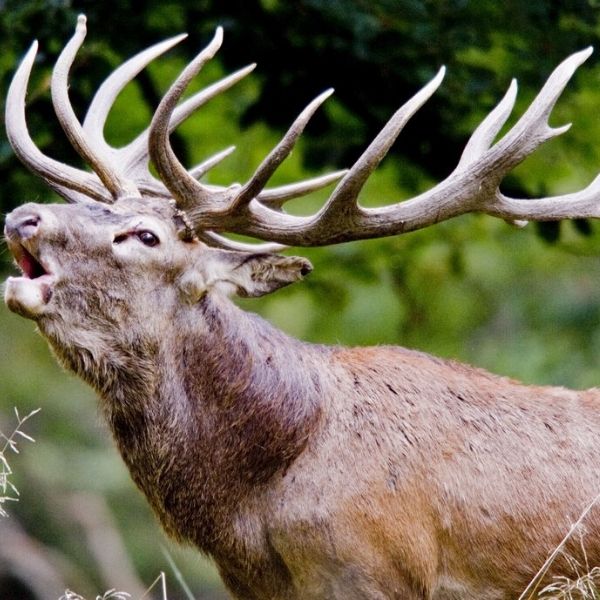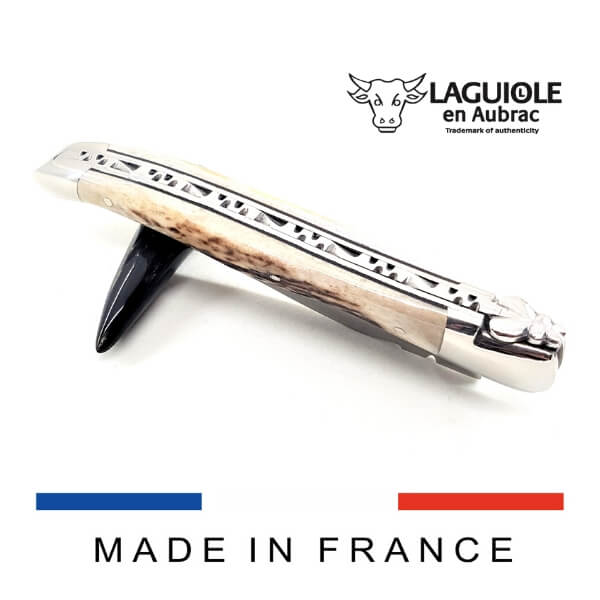 Laguiole Pressed Horn
Pressed horn handles are very common on laguiole knives. It is one of the cheapest natural materials on the market. Simple and sober, it is dark to gray in color, commonly black.
It comes from the hollow part of the horn and must be hot pressed to flatten it and make it into handle pads. This technique is also used for the manufacture of salad spoons, combs etc …
Often criticized and inappropriately compared with the much more expensive horn tip, it often makes it more affordable for customers. By removing manual steps (bee chiseled at the matrix, no inlaid shepherd's cross), prices can start at less than a hundred euros.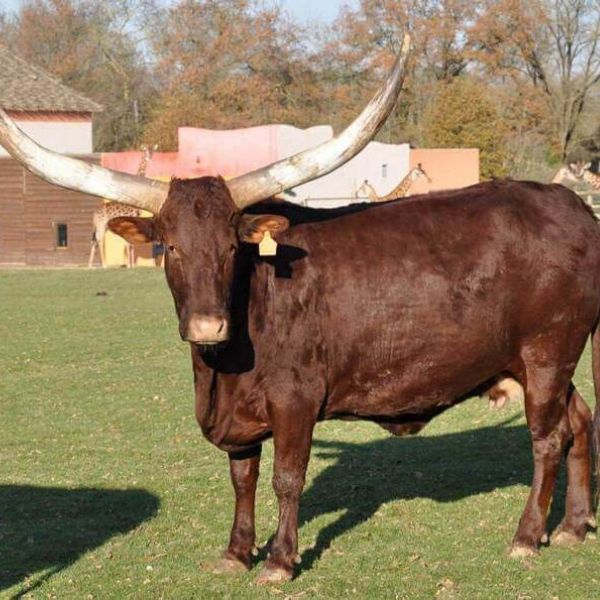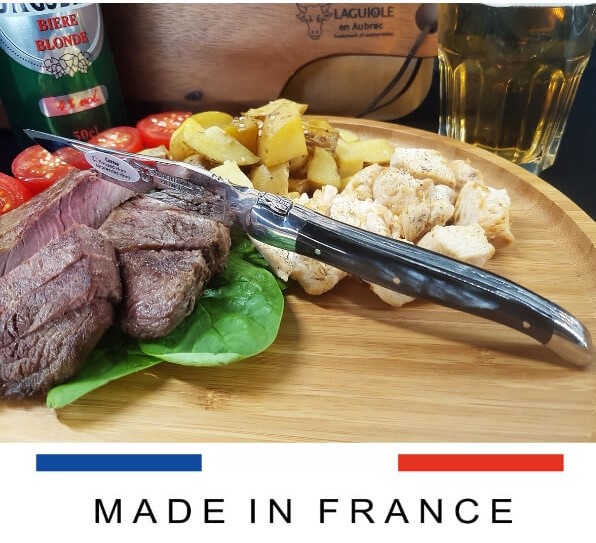 Laguiole Ram Horn Crust
The colors of the ram horn crust are many and their infinite shades ranging from blonde to black to gray. The appearance is rugged and rough giving it a particularly rustic look.
It is a type of material appreciated by personalities with a strong character, not to say more than stated!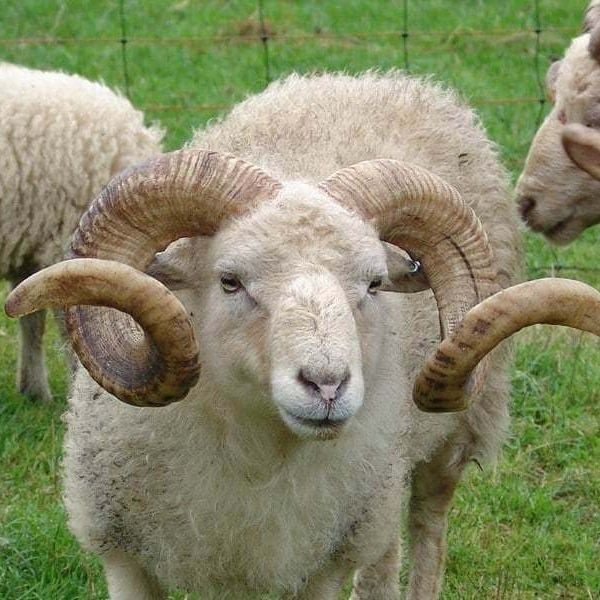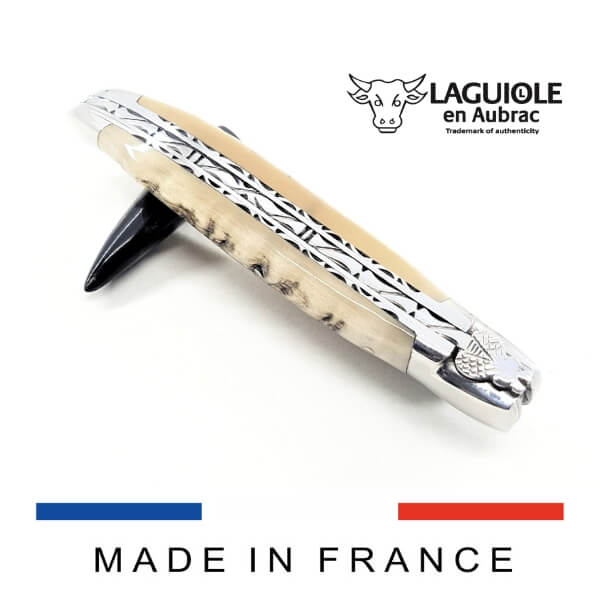 Laguiole Molar Mammoth
The fossilized mammoth molar is often native to Siberia or Alaska and is estimated to be between 7,000 and 10,000 years old. They are found in "Permafrost" (permanently frozen ground). Sometimes it happens that certain sailors bring in their trawls fossils recently released by the sediments.
Each model has a certificate of authenticity. Ivory and mammoth molar teeth are allowed without regulatory constraints, as the species is extinct.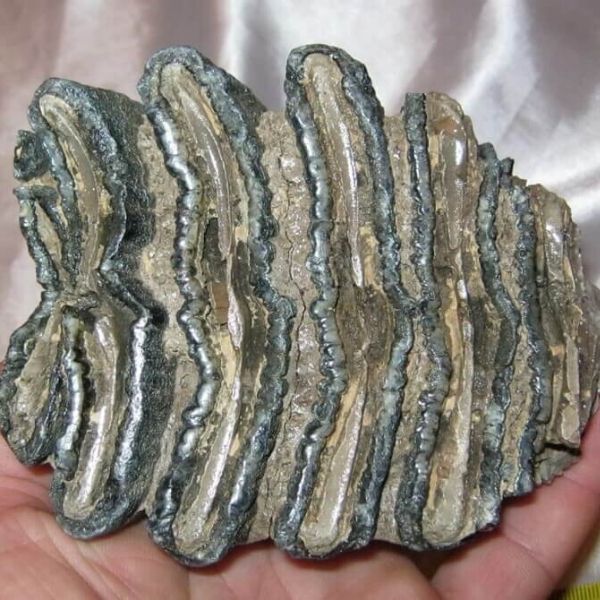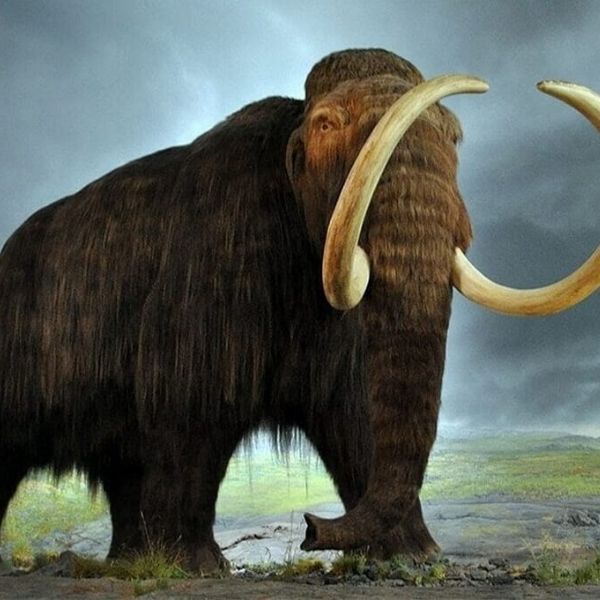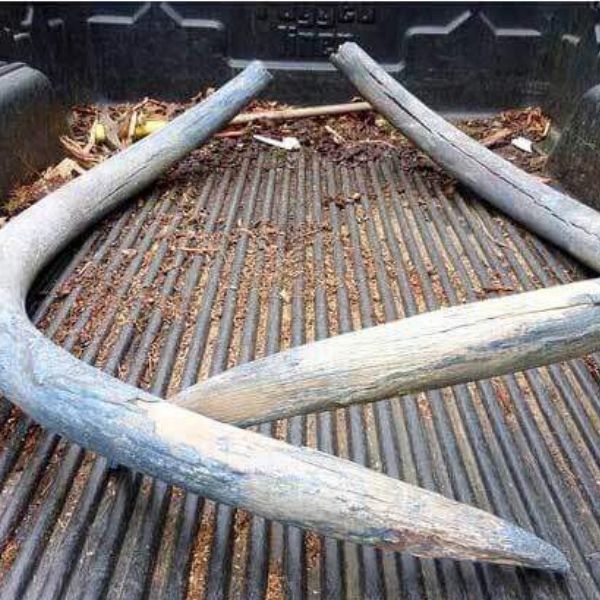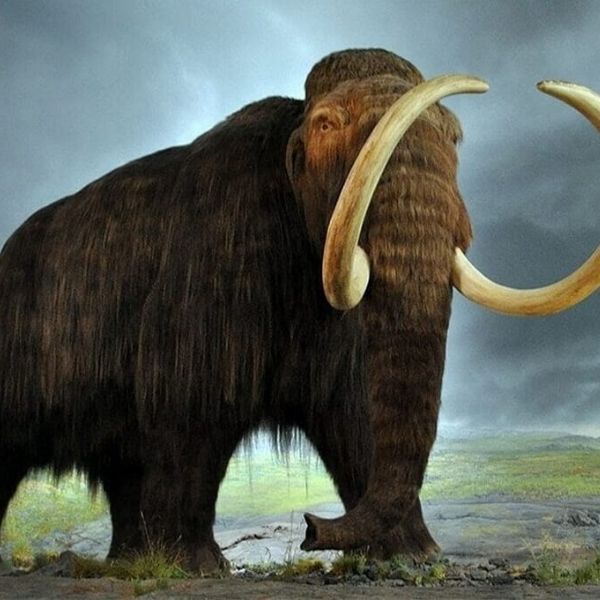 Laguiole Mammoth Ivory
Fossilized mammoth ivory has been used on the most high-end models since the creation of the laguioles. It is a legal material even which comes from the tusks of Mammoth which disappeared about 10,000 years ago, we find them in the "Permafrost" (permanently frozen ground) of Alaska or Siberia.
Its heart is white / light yellow with very fine white veins.
Mammoth tusks are accidentally found by gold prospectors in Alaska. The most specialized country for its research is Siberia.
Each model has a certificate of authenticity. Ivory and mammoth molars are authorized without regulatory constraints, the species being extinct.
However it is not infinite, we invite you to doubt the possibility of purchasing this material which will be increasingly rare and more expensive in the coming years.
Laguiole Mammoth Ivory Crust
Fossilized mammoth ivory has been used on the most high-end models since the creation of the laguioles. It is a legal material even which comes from the tusks of Mammoth which disappeared about 10,000 years ago, we find them in the "Permafrost" (permanently frozen ground) of Alaska or Siberia.
Its Crust is the rugged and stabilized external part appreciated for its non-uniform aspect. It sometimes has brown or blue-green colored inclusions due to the presence of an iron phosphate: vivianite.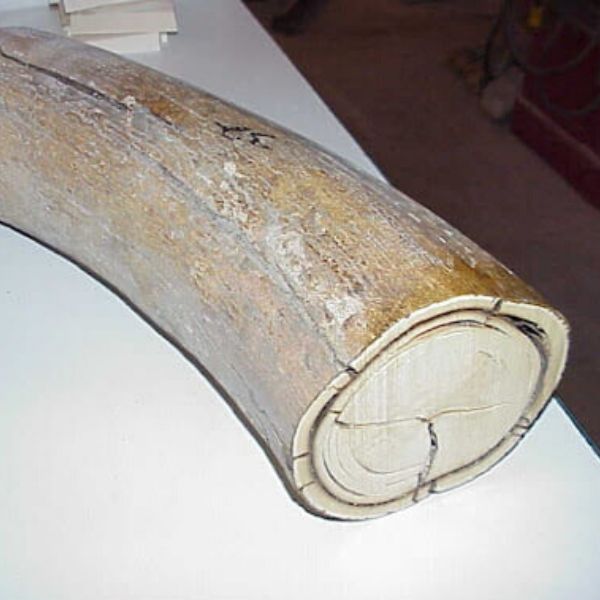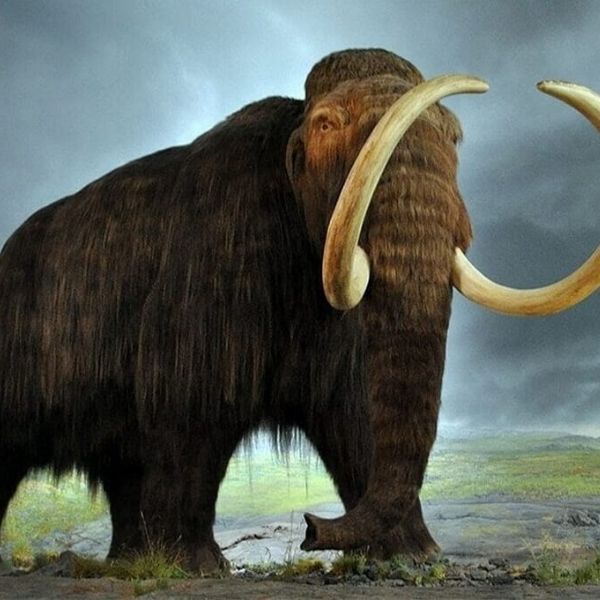 Laguiole Turquoise
Turquoise is a hydrated phosphate of copper and aluminum. It is a precious and rare ornamental stone known since further than Antiquity. Its origins date back more than 3000 years: it was used in jewelry as well in Egypt, in China, as in Mesopotamia.
A highly symbolic handle material, the Egyptians used this precious ornamental stone on ceremonial amulets and necklaces. It is also the national stone of Tibet for its virtues of good health and prosperity.
The natural turquoise of a sleeve size is very rare and would be almost unusable because porous and fragile. By nature, semi-precious stones are porous and therefore difficult to work and cut in jewelry.
This is the reason why it is stabilized. It is a real natural turquoise with impregnation of a colorless resin to increase the hardness of the gem without modifying either the structure or the color.
How to tell the difference with a fake turquoise? It's quite simple: the weight and the feeling to the touch.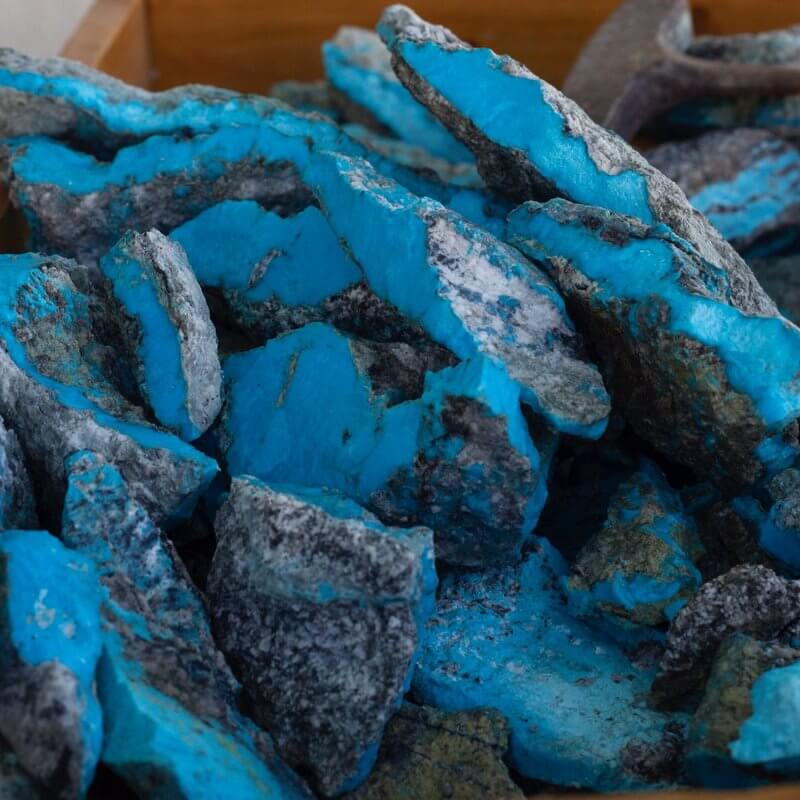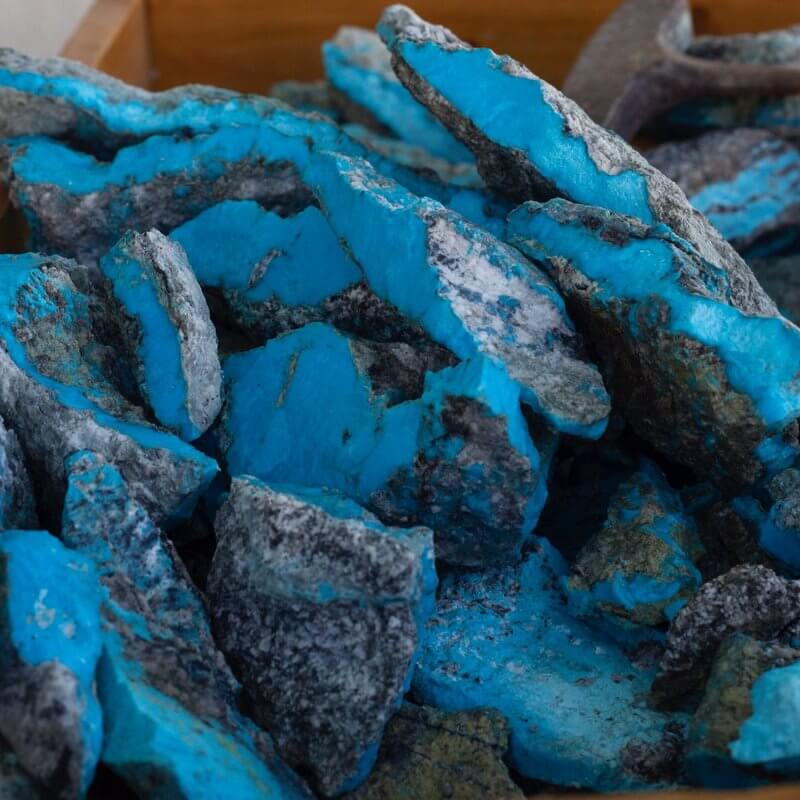 Laguiole en Malachite
La malachite est une pierre de couleur verte, avec des nuances du vert clair au vert foncé marquant des lignes dans ce minéral. Le nom vient du latin malachites, du grec molochē qui veut dire mauve, il s'agit de la plante de mauve qui à un feuillage vert ressemblant à la couleur de la malachite.Les principaux gisements de la pierre malachite se situent en Australie, au Brésil, au Chili, au Congo, aux Etats-Unis, en France, en Israël, en Russie et au Zaire.

Laguiole Larimar
Larimar is a fairly rare stone since it is found only in one place in the world: in the Dominican Republic.
It is a mineral species that belongs to the pectolites family. The color of larimar is light blue, but the stone often has white veins. It belongs to the so-called triclinic crystal system. Its average hardness is between 6 and 7 on the Mohs scale.
Models in semi-precious stones require special vigilance, because even if they have a certain resistance, they still remain more fragile in the event of a bad fall.
ADDITIONAL INFORMATION PAGES