Laguiole en Aubrac Corkscrews
Elegance and functionality combined for a sublime wine tasting experience!
Laguiole en Aubrac corkscrews have been designed to simplify the opening of your bottles when tasting your favorite wines. Their ergonomic design and high-quality stainless steel serrated blade allow you to open your bottles with ease and precision.
The lever corkscrew ensures flawless cork extraction in a single motion, while the integrated foil cutter guarantees effortless capsule cutting.
Elevate your wine tasting experience!
Each Laguiole en Aubrac corkscrew transcends the function of a simple accessory: it is a true work of art that enhances your wine tasting experience. Handcrafted by skilled cutlers in Aubrac, these corkscrews are an expression of artisanal heritage and a passion for the art of the table.
The noble materials used, such as precious wood, bone, horn, and Damascus steel, give each corkscrew a unique beauty that will delight your senses.
Excellence and quality in service of your passion
Choosing a Laguiole en Aubrac corkscrew means choosing excellence and quality. Each piece is rigorously inspected to ensure durability and flawless performance.
Their delicate finishes, sophisticated details, and timeless elegance make these corkscrews exceptional objects, ideal for gifting or completing your own collection.
"Experience unparalleled wine tasting with Laguiole en Aubrac corkscrews"
Discover an exclusive selection of Laguiole en Aubrac corkscrews, high-end tools designed for wine enthusiasts and professionals.
Each corkscrew is a perfect representation of utility, pleasure, and prestige. Allow yourself to be captivated by how these works of art magnify each wine tasting experience.
Shop your Laguiole Corkscrew !
Classic Corkscrews
Classic corkscrews are the most common and are characterized by their simplicity and functionality. Equipped with a stainless steel corkscrew, lever, and foil cutter, they offer a comfortable grip and easy use. The handle materials can vary, ranging from wood to metal, resin, or bone. Classic corkscrews are perfect for everyday use and are accessible for all budgets.
Corkscrews with Twisted Bolsters and Guilloche Plates
This category of corkscrews stands out for its elaborate aesthetics and refined design. The twisted bolster adds a touch of elegance and sophistication, while the guilloche plates provide an additional level of finesse. These corkscrews are handcrafted by skilled artisans with particular attention to detail. Corkscrews with twisted bolsters and guilloche plates are ideal for those looking for a functional and aesthetically pleasing, unique tool. They are available in olive wood, juniper, ebony, snakewood, horn tip, and bone.
Corkscrews with Damascus Blades and Guilloche Plates
Corkscrews with Damascus blades and guilloche plates represent the pinnacle of craftsmanship and luxury. The Damascus blade, made from several layers of steel, is renowned for its beauty and exceptional strength. Combined with guilloche plates, it gives the corkscrew a unique and prestigious appearance. The noble materials used for the handle, such as olivewood, juniper, snakewood, bone, horn tip, and buffalo horn, add an additional dimension of elegance. Corkscrews with Damascus blades and guilloche plates are the perfect choice for discerning wine enthusiasts who wish to invest in an exceptional tool.
The three categories of corkscrews: Classic, with twisted bolsters and guilloche plates, and with Damascus blades and guilloche plates
The corkscrew is an essential tool for any wine enthusiast or professional, offering an optimal and refined tasting experience. There is only one form of corkscrews that can be divided into three categories, each with its own unique features and charm. Discover classic corkscrews, those with twisted bolsters and guilloche plates, as well as those with Damascus blades and guilloche plates.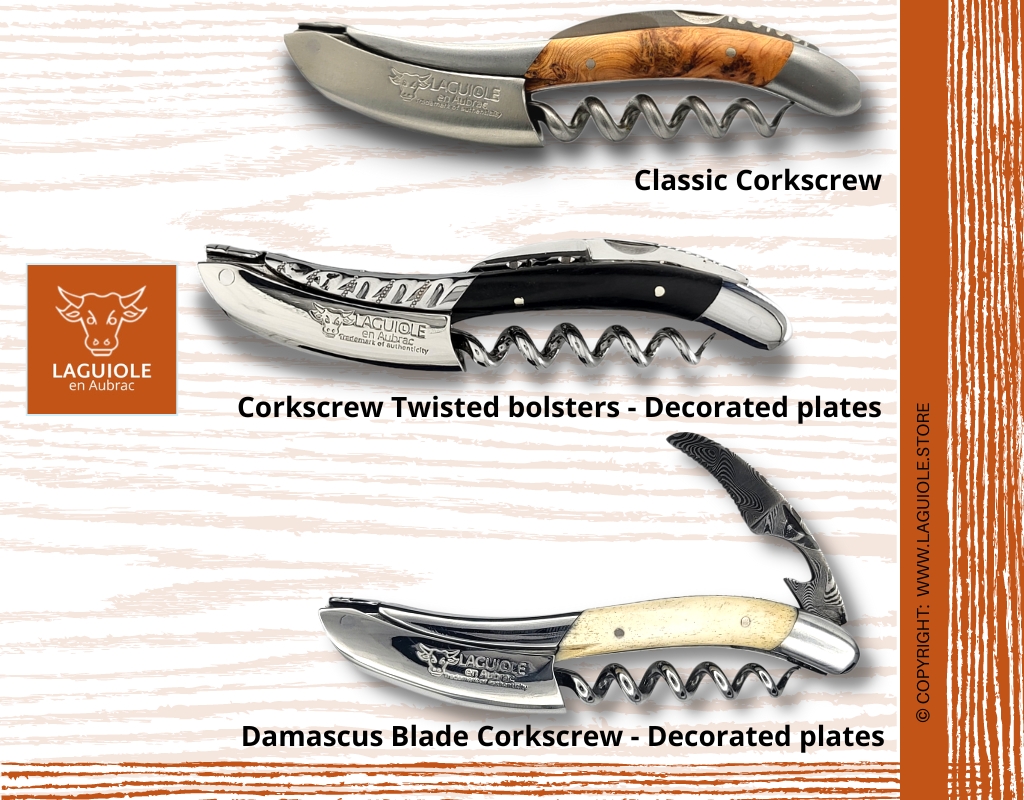 Choosing a corkscrew will depend on your aesthetic preferences and budget.
Classic corkscrews are ideal for everyday use and suit all budgets, while corkscrews with twisted bolsters and guilloche plates offer a refined design for those who appreciate the details. Finally, corkscrews with Damascus blades and guilloche plates are the ultimate option for discerning connoisseurs and collectors who wish to invest in an exceptional tool combining aesthetics, performance, and durability.
When choosing a corkscrew, also consider the manufacturer's build quality, ease of use, and the tool's ergonomics. It is important to select a corkscrew that will meet your needs and allow you to enjoy a comprehensive tasting experience.
No matter which category of corkscrew you choose, remember that the main goal is to fully enjoy each tasting moment. A good corkscrew will help you open and savor your favorite wines with elegance and ease, while adding a touch of refinement to these moments.
CONTINUE YOUR DISCOVERY WITH THESE ADDITIONAL PAGES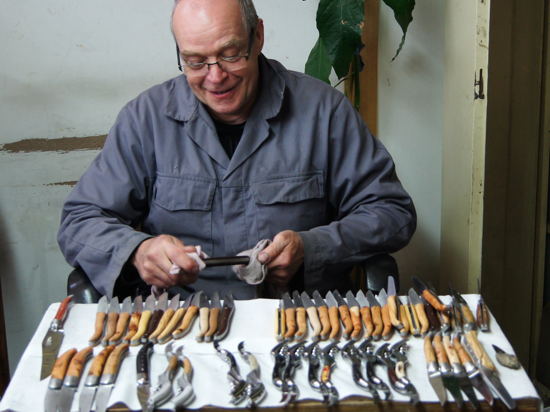 Knifemaker's Workshop
Under the workshop manager's supervision, Laguiole en Aubrac not only has a woodworking workshop and a forge but also its own assembly workshop. In this workshop, each knife is assembled by the same artisan knifemaker, ensuring constant attention to detail and impeccable quality.