Guide and tips
Laguiole : real or fake?
Beware of copies and cheap products!
Before you decide to buy a Laguiole, whether on the Internet, in a specialized store in France, we recommend that you be vigilant about the criteria developed on this page.
Unfortunately, a considerable part (around 80%) of the Laguioles offered on the market (both on the Internet and at the so-called local knife dealer) do not come from France and even less from an assembly workshop including a forge.
Laguiole is not ONE company. "Laguiole" is not a brand either. Laguiole is above all the name of a village of around 1,200 inhabitants in France, in the department of Aveyron, as well as the name of an excellent cheese. Also, Laguiole is an umbrella term for a certain knife design which is not protected. It is a public domain name and it is not possible to register a trademark bearing the name of a city or a village. It is not, for example, not possible to register the brand name "Paris". This is the same for "Laguiole".
The Laguiole en Aubrac® brand is a registered trademark which thus certifies the origin of its provenance. A knife on which it is just indicated "Laguiole" or "Laguiole Véritable" no one to this day can tell you where it comes from.
Laguiole: Differentiate real manufacturing companies from foreign imports.
If you arrive on this page, perhaps you are looking for answers because we know it, for laymen the market is opaque and confusing since there are more than a hundred different companies in France which alone that manufacture knives and other products under the term "Laguiole".
All these companies are not necessarily blacksmiths or at least a manufacturer who manually manufactures high quality products in France, in Aveyron. It would not happen to anyone to buy Breton Crepes manufactured industrially in … Marseille or in Bangladesh!
Most of the Laguioles on offer come from abroad. They are mainly produced in low-wage countries such as Pakistan or China from the cheapest materials using machinery and assembly lines.
These are products of inferior quality to hollow bolsters glued on plastic handles, with a short lifespan and definitely without "soul"…the scraps of Laguioles!
You will find "
Laguiole Bougna
" at the top of the list of these poor quality Laguioles sold on Cdiscount. As well as Laguiole "flying color" sold directly from China on
Aliexpress.
Christian Valat in Special Investigation – French TV
We all know in France this program from Elise Lucet, who denounces through its reports scams and schemes of all kinds. Meet Christian Valat, owner of the Laguiole en Aubrac® manufacture, explaining how to recognize genuine Laguioles in the face of unscrupulous sellers.
Selection criteria for purchasing a Laguiole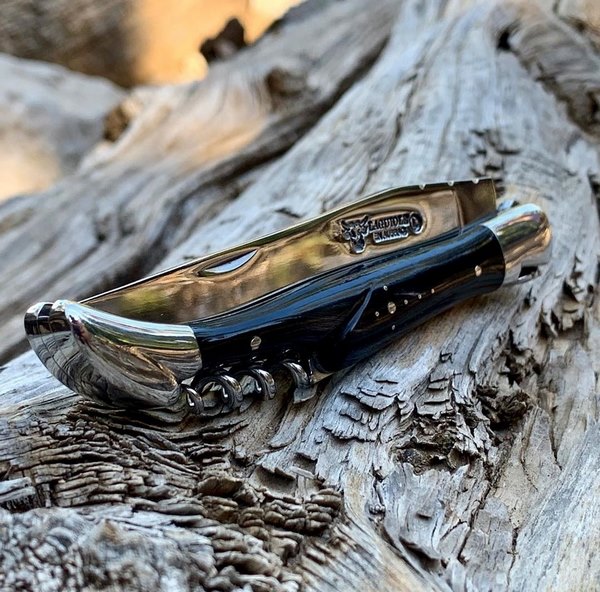 Laguiole Classic Range
This collection is undoubtedly the best known: with bolsters in shiny or satin stainless steel, but also in brass. Blade alone or with corkscrew. A plate is affixed on each side of the spring. The material of the handle gives some models their originality.
On this page we take a look at the classic Laguiole in detail.
More information
The existence of a real manufacturing workshop
Check if the original manufacturer is a real craftsman based in France. Laguiole en Aubrac is located at 2 rue Eugène Salettes, 12500 Espalion near Laguiole. You can at any time take note of the guaranteed manual work through the section of the
vidéos
selected for this site. Contact details are also available on the official
Laguiole en Aubrac
website and can be reached by phone on 05 65 44 78 55.
The brand and logo of the stamped in the blade
Basically, the name and logo must be visible (again "laguiole" alone is not enough, even if there is a bee. Regarding Laguiole en Aubrac®, its logo is a bull's head.
Lifetime warranty
Laguiole en Aubrac products are guaranteed for life against any manufacturing defect. But beware, no use! For example: Open a tin can, unscrew a screw, clean your wooden knife or horn in the dishwasher…
Pocket Knives Classic Range
Prices - Blades - Warranty - Repairs
Cheap Laguiole: Really?
If this criterion is the main one, you will come across Asian or industrialized manufactures (even French) with this call phrase. This is because, given the time required and the high costs of labor and materials, it is an illusion to believe that you can buy a high quality product that is handcrafted by qualified experts for a price. For example, a Laguiole pocket knife does not exist for less than 120 euros with a corkscrew.
Folding knife blades
For the blades of authentic Laguiole pocket knives,
Sandvik 12C27MOD
steel has established itself as an alloy with excellent properties. Alternatively the blades are carbon steel or
Damascus Steel
.
We do not recommend knives with blades other than 440 steel. These blades are inferior in quality and suggest that they are industrially made products or with lots of old blades from the 70s.
Laguiole Double plates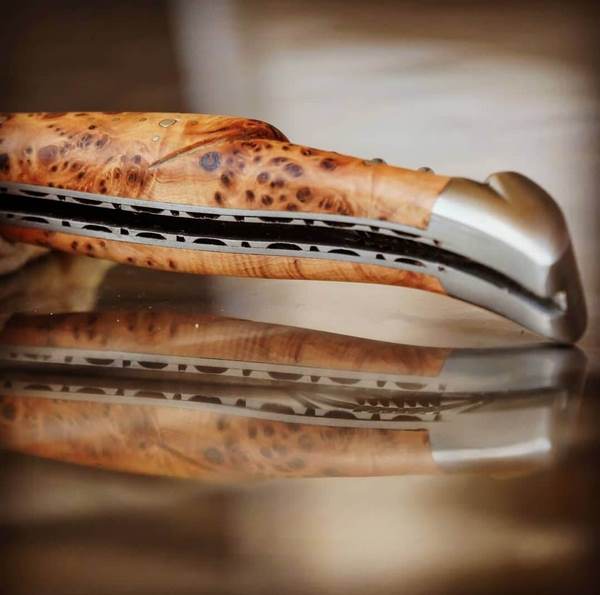 Laguiole Double Plates Pocket knives
More and more popular, the models in this collection have two plates on each side of the spring. Thus allowing ornamentation above and below. Each Laguiole double plate knife is therefore unique.
On this page we analyze in detail the double plate models.
More information
01
Its Origin
First of all, it is important to know the manufacturer of your laguiole. Location is its geographic origin. And of course its guarantee. Laguiole en Aubrac offers a lifetime guarantee on all its products against any manufacturing defect.
02
What size and use?
A laguiole knife can be used for many things: eating, going fishing, picking mushrooms, cooking… The size offered on this site is the universal size of 12cm : same for both men and women.
03
Which handle to choose?
What type of handle: Wood or horn? Collector's model, classic range brass or stainless steel bolster or double plates? Corkscrew knife or sommelier corkscrew? The choice can sometimes be complex, it is made step by step!
Steak Knives with Sharpened Blade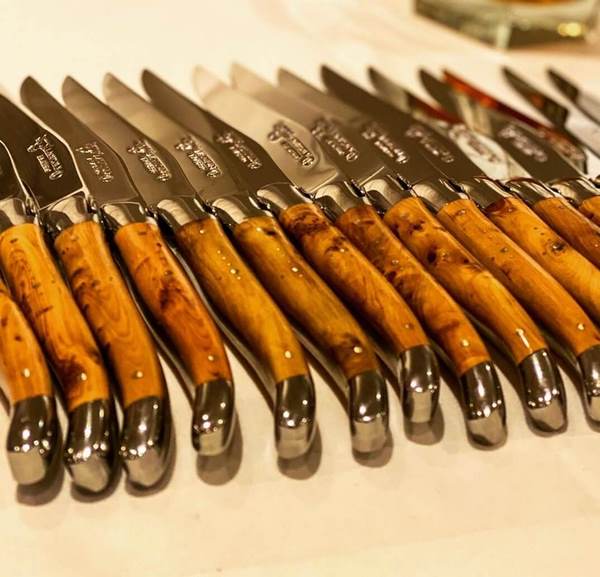 Laguiole Tableware
Laguiole en Aubrac offers steak knives, but also table or dessert forks. Small and large spoons as well as dessert knives. Carving sets, salad sets and cheese knives are also part of this selection of tableware.
More information
Laguiole steak knives
A good steak knife should always have a so-called full tang blade: a single piece of metal, from the tip of the blade to the end of the handle. It should be smooth and sharp, but especially not serrated. A serrated blade tears the meat fiber. This type of punched steak knives so-called "laguiole" generally come from Asia, have a minor price but have a quality limited to the use.
Laguiole en Aubrac does not produce steak knives with serrated blades.
Warranty
Laguiole en Aubrac offers a lifetime guarantee on all of its products. Checking the warranty is another criterion, as is the repair possibilities for your Laguiole en Aubrac knives!
Laguiole en Aubrac Steak Knives
Laguiole en Aubrac Corkscrews
Corkscrews also called Sommelier Corkscrews, can be considered as an elitist variation of the famous Limonadier which, when it comes to him, is not a basic tool used in cafes.
They are made of beautiful, high-quality, strong and thick stainless steel, as well as particularly resistant wood or horn. The Laguiole en Aubrac Corkscrews have a simple one-notch lever allowing the extraction of the bottle cork in one and only time!
The long wick with 5 wide and conical turns, and very fine at the base, penetrates the stopper without breaking it.
The serrated caspsule cutter offers the advantage of not being sharp. Complex thing to do for the neophyst taking into account the curvature of the blade.
The two-step openings of two notches are part of the gadgets developed in recent years. Indeed, for lack of having a sufficient length of wick, a double notch was necessary for these objects to work and whose price varies from 3 to 10 euros.
Laguiole Corkscrews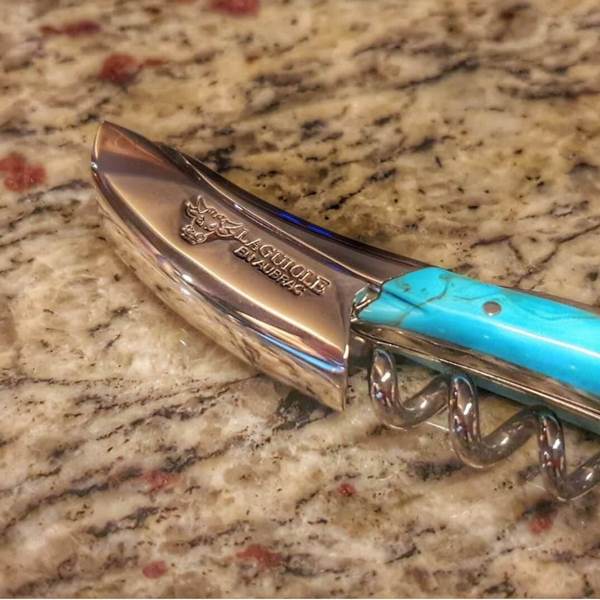 Laguiole Corkscrews
Sommelier corkscrew is the ideal utensil for opening and tasting good wines and Grands Crus. Its aesthetics, its beautiful materials, the experience it offers will seduce and satisfy any self-respecting wine lover.
On this page we take a look at your Laguiole en Aubrac corkscrew in detail!
More information
Other guide pages and additional tips