How to Recognize a Genuine Laguiole Knife?
1 - What determines the term Laguiole
2 - Key Elements of an Authentic Laguiole Knife
3 - Differences Between Authentic Laguiole and Counterfeits
4 - Quality Criteria of Laguiole Knives
5 - Authenticity Certificates
6 - Where to Buy a Genuine Laguiole Knife?
Laguiole en Aubrac knives are high-quality products, originating from French craftsmanship, known for their elegant design and long tradition. However, with the growing demand, many manufacturers are now producing counterfeit versions of these knives, which can be difficult to distinguish from authentic models. Therefore, it is important to know how to recognize a genuine Laguiole knife and avoid counterfeits.
In this guide, we will provide you with the keys to recognizing an authentic Laguiole knife. You will learn the key elements of a genuine Laguiole knife, the differences between Laguiole knives and counterfeits, the quality criteria to consider, as well as certificates of authenticity. With this information, you will be able to make an informed choice when purchasing an authentic Laguiole knife that will meet your expectations and last for many years.
Whether you are an avid collector or simply looking for a quality Laguiole knife for daily use, this guide will help you avoid the pitfalls of counterfeits and make an informed choice for a quality product.
Identifying Fake Laguiole Knives
In this video, Christian Valat, CEO of Laguiole en Aubrac, shows us how to recognize a genuine Laguiole knife. He explains the key elements that must be crafted to ensure the knife's authenticity.
As an emblem in French cutlery, the Laguiole knife is highly appreciated for its elegant design and exceptional craftsmanship. However, with the increase in counterfeits, it is important for consumers to know how to distinguish a genuine Laguiole from a fake one.
This video is an excellent resource for all knife enthusiasts as well as those who want to buy a genuine Laguiole with confidence.
We would like to inform you that the elements we propose to differentiate genuine and fake Laguiole knives are for reference only and subject to your final choice as a customer.
Although we provide advice to help you identify the characteristics of a genuine Laguiole knife, it is important to understand that these elements do not guarantee 100% authenticity of a Laguiole knife if counterfeits improve their appearance. This is why we sometimes address technical details.
We provide this information to help you make an informed decision when purchasing a Laguiole knife, but we cannot be held responsible for any choices you may make based on this information on another website.
We also want to emphasize that, while we are aware that there are other French knife manufacturers who produce quality products, we cannot include them in our recommendations for differentiating genuine and fake Laguiole knives.
This is due to the fact that each manufacturer has its own characteristics and manufacturing methods that distinguish them from one another. We do not want to offend or inconvenience other French manufacturers by including or excluding their products in our suggestions of features to identify a genuine Laguiole knife.
However, we acknowledge that these manufacturers offer authentic and high-quality products, and we encourage our customers to do their own research and familiarize themselves with the features of products from different manufacturers before making their choice.
1. What determines the term "Laguiole"?
A. The term "Laguiole"
The term Laguiole refers to a type of traditional French pocket knife that was initially made in the village of Laguiole, located in the Aveyron department in the southwest of France. Laguiole knives have been produced in this region since the early 19th century and have become emblematic of the region and French culture.
The name Laguiole can also refer to a knife style with specific design features, such as the shape of the blade, the handle, the spring, and the bee or fly.
Thus, the term Laguiole refers both to a specific geographic location in France and a knife style that has become a symbol of French culture.
B. The "Laguiole Knife Brand"
A unique Laguiole knife brand is an inaccurate term. Laguiole is not a single cutlery company or a unique brand, but rather the name of a village of about 1,200 inhabitants in the Aveyron department, France, as well as the name of a renowned cheese. In addition, Laguiole is a generic term that refers to a knife style with design features mentioned earlier.
A knife bearing the simple mention "Laguiole" or "Laguiole Véritable" does not guarantee its origin or quality and is more often a warning sign.
The Laguiole en Aubrac brand is a registered trademark that certifies the origin of its knives. The knives bearing this brand are manufactured in the historical area of origin, in the Aveyron region, France, and meet the quality standards established by this brand itself.
Excerpt: The village of Laguiole cancels twenty brands that usurped its name
The village had been fighting for more than twenty years with an entrepreneur from Val-de-Marne who used its name to market a whole range of often imported products.

The village of Laguiole, in Aveyron, will finally be able to register its own name. The Paris Court of Appeal annulled, on Tuesday, March 5, twenty Laguiole brands owned by an entrepreneur who used them to market a whole range of often imported products.

The village had been fighting for over twenty years to reclaim its name from an entrepreneur from Val-de-Marne. This entrepreneur had registered the brand to designate not only knives, a great tradition of the municipality, but also household linens, clothing, fertilizers, and even barbecues. Against royalty, this entrepreneur also granted licenses to French and foreign companies that could market products under the name Laguiole that were not manufactured there.

In their ruling, the judges denounce a "fraud," "a strategy aimed at depriving the municipality and its residents of the use of the name Laguiole."
2. Key Elements of an Authentic Laguiole Knife
The second section of our guide to recognizing a genuine Laguiole knife focuses on the key elements that make up an authentic Laguiole knife. We will examine the blade, bolster, bee, and spring, providing you with all the necessary information to identify a reliable Laguiole knife.
A. The blade: manufacturer's name, shape, thickness, materials
The blade of a Laguiole knife is a crucial element in determining its origin; the manufacturer's name must be indicated on it, as "Laguiole" or "Genuine Laguiole" has no meaning, as you just read in section 1 of this page. The blades are generally straight or curved, depending on the manufacturer's preference and their forge, and are designed to provide a precise and long-lasting cutting edge. Laguiole knife blades are often made of high-quality steel, such as Sandvik 12C27 stainless steel. Steels 440 or 420 should be avoided. High-end Laguiole knives may also feature Damascus blades, made of multi-layered steel for an exceptional edge.
B. The bolster: shape, finish, materials
The bolster, which separates the blade from the handle, is also an important element in recognizing an authentic Laguiole knife. Bolsters are typically made of brass, stainless steel, or Damascus steel, depending on the model. The bolster's finish can vary, ranging from a shiny finish to a brushed finish.
C. The bee/fly: shape, finish, materials
The bee, or fly, is an emblematic element of Laguiole knives, placed on the spring to add a decorative touch. Bees can vary in shape and design, depending on the manufacturer. Authentic Laguiole knives typically feature a detailed bee, with fine details and a polished finish. A forged bee or fly is also an important indicator of the knife's quality and authenticity.
D. The spring: shape, resistance, finish
The spring is an essential element of any Laguiole knife, providing resistance and support to the knife's mechanism. Springs on authentic Laguiole knives are often adorned with intricate and detailed patterns, adding a touch of style to the overall knife. Springs are made of stainless steel.

3. The Differences Between Authentic Laguiole Knives and Counterfeits
Section 3 of our guide helps you distinguish an authentic Laguiole knife from a counterfeit. Counterfeits can be difficult to spot, but by carefully examining certain key elements, you can avoid unpleasant surprises.

A. Common Counterfeits and Their Differences from Authentic Laguiole Knives
It is important to note that counterfeits can vary in quality, appearance, and especially in price. This indication is the most important. A Laguiole knife at €30 or less than €100 is generally an Asian-made product.
Counterfeits may have differences in the shape and size of the knife. Authentic and traditional Laguiole knives have standardized shapes and sizes, while counterfeits may be larger, smaller, or have completely aberrant shapes.
Moreover, the materials used in counterfeits may differ from those of authentic Laguiole knives. Counterfeits may use lower-quality materials or non-authentic materials, such as cheap plastics for handles or inferior metals for blades that are not indicated on the blades.
Finally, the finishes and details of counterfeits are often less refined than those of authentic manufacturers. Bees may be less intricately crafted, bolsters less well-finished, and springs brittle.
B. Materials Used in Counterfeits and How to Identify Them
The materials used in counterfeit Laguiole knives can be identified by carefully examining the knife. The handles may be made of cheap plastic or composite materials or never indicate the material composition, rather than authentic materials such as ivory, bone, or wood. Blades may be made from inferior metals, such as lower-quality surgical steel or non-food-grade metal.
The finishes of Asian or Pakistani counterfeits may also show differences compared to French Laguiole knives. Bees may be less intricately crafted, bolsters less well-finished, and springs less resistant and poorly guilloched. In general, counterfeits tend to be less meticulous in their manufacturing and finishes.
C. Identifying the Manufacturer and Being Able to Contact Them
It is important to ensure that the Laguiole knife you are purchasing is authentic and made in a genuine workshop in France. Laguiole en Aubrac, located at 2 rue Eugène Salettes, 12500 Espalion near Laguiole, is an authentic manufacturing workshop, and you can learn about the guaranteed manual work by watching selected videos on their website. The contact details of the workshop are also available on the Laguiole en Aubrac factory website.
D. The Warranty
Another important factor to consider is the lifetime warranty against any manufacturing defects of Laguiole en Aubrac products. However, it is important to note that the warranty does not apply to improper use of the knife, such as opening a can, unscrewing a screw, or cleaning a wooden or horn knife in the dishwasher. It is therefore important to use your Laguiole knife properly to benefit from the lifetime warranty.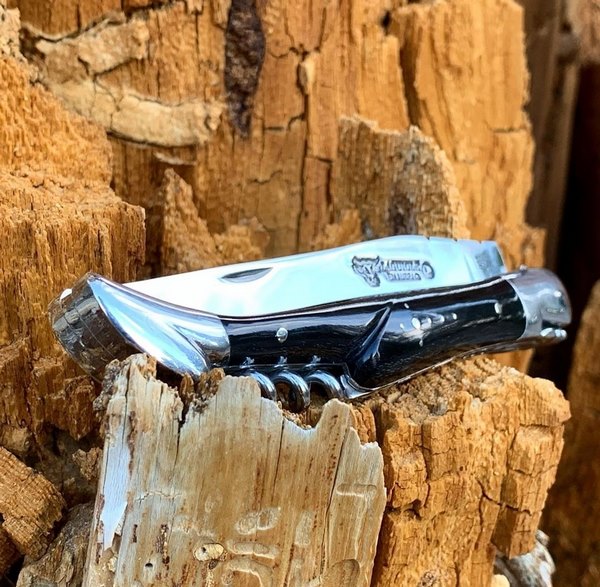 4. The Quality Criteria of Laguiole Knives
Section 4 of our guide to recognizing a genuine Laguiole knife focuses on the quality criteria that determine whether a Laguiole knife is authentic and handcrafted.
The Different Quality Levels of Laguiole Knives
Laguiole knives are manufactured in a range of different quality levels, from the most basic to the high-end. The most basic knives are typically mechanically manufactured on an industrial scale and feature simpler finishes, while artisanal knives are handmade and feature more sophisticated finishes.
The different quality levels are reflected in the materials used for the handle, blade, and other elements of the knife, as well as in the quality of the finish. High-end knives are generally made from the highest quality materials, such as exotic wood, ivory, horn, or leather, while basic knives may use lower-quality materials.
How to Identify a Handcrafted Laguiole Knife?
A handcrafted Laguiole knife is distinguished by the name of its manufacturer, the quality of its craftsmanship and materials, and the finesse of its finishes. Here are some key features to look for to identify a high-end Laguiole knife:
The handle is made from high-quality materials, such as exotic wood, ivory, or horn tip…
The blade is made from high-quality steel.
The finish is extremely meticulous and detailed, with a finely worked and polished bee, bolsters, and springs.
The knife features decorative file work on the spring.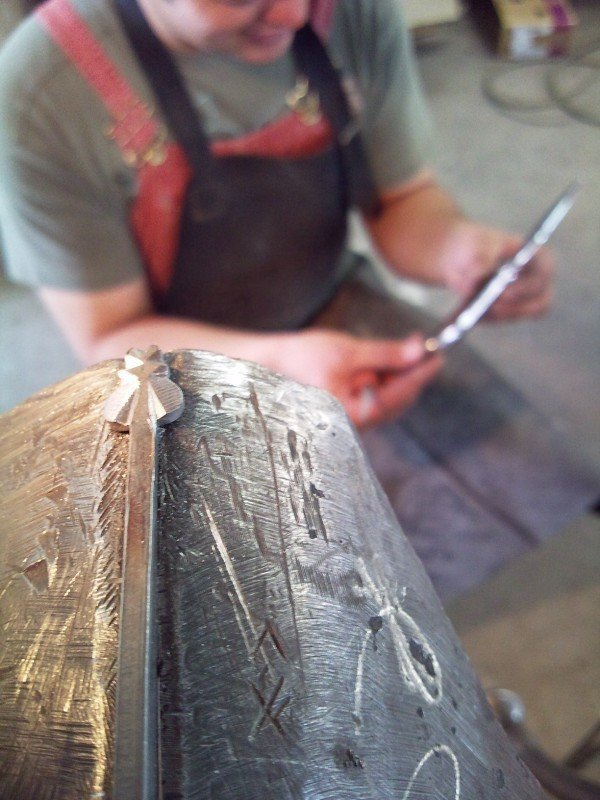 5. Authenticity Certificates
When purchasing an authentic Laguiole knife, it comes with an authenticity certificate. This certificate guarantees that the knife was handcrafted by a Laguiole en Aubrac artisan and meets the brand's high-quality standards.
It is important to verify the authenticity of the certificate. Counterfeits may include fake certificates that are particularly vague, so it is important to examine them carefully. Authentic certificates feature detailed information about the knife, such as the reference number, purchase date, and purchase site. If you have doubts about the authenticity of the certificate, do not hesitate to contact the manufacturer or the retailer.
6. Where to Buy a Genuine Laguiole Knife
It is important to obtain a genuine Laguiole knife from an authorized retailer to avoid counterfeits. Authorized retailers have a direct relationship with Laguiole en Aubrac and sell authentic products.
It is also important to exercise caution when shopping online. Many websites sell counterfeit Laguiole knives. Make sure to purchase only from authorized retailer websites or physical Laguiole en Aubrac store. When shopping online, also check for the presence of authenticity certificates and quality guarantees.
CONTINUE YOUR DISCOVERY WITH THESE ADDITIONAL PAGES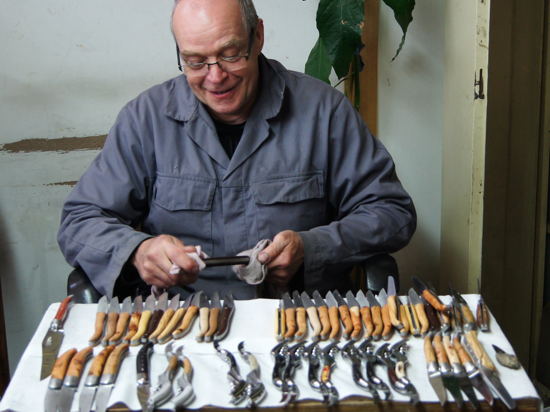 Knifemaker's Workshop
Under the workshop manager's supervision, Laguiole en Aubrac not only has a woodworking workshop and a forge but also its own assembly workshop. In this workshop, each knife is assembled by the same artisan knifemaker, ensuring constant attention to detail and impeccable quality.