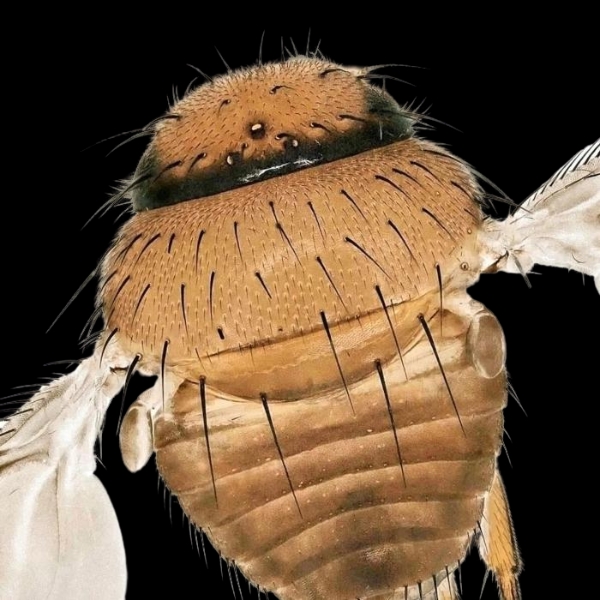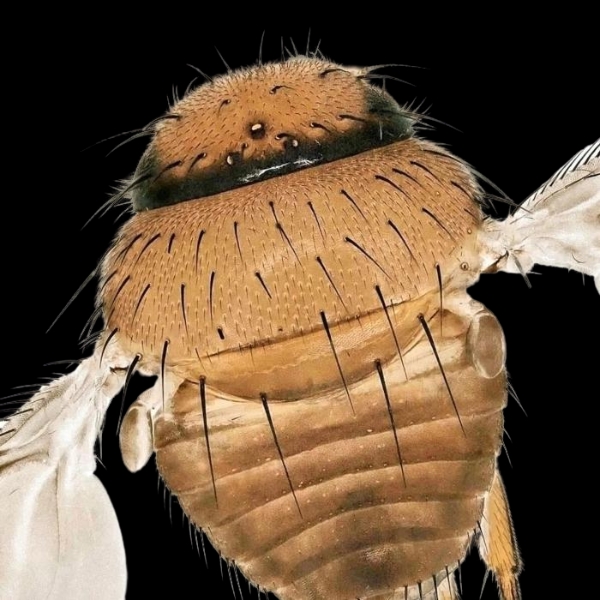 Free: Personalized Laguiole Knife with Laser Engraving
Each Laguiole en Aubrac knife is a powerful symbol of French craftsmanship and excellence. However, a personalized Laguiole knife is even more exceptional and unique, thanks to laser engraving that allows you to add text and symbols. In addition to numerous photo examples, we explain why a personalized Laguiole knife is an undeniable asset and how laser engraving adds an extra touch to this already prestigious item.
The Charm of a Personalized Laguiole Knife
Opting for a personalized Laguiole knife means choosing to bring a touch of uniqueness to an object already known for its quality and design. Whether you want to give a memorable gift or enrich your own collection, a Laguiole knife personalized with your name is a way to stand out and showcase your exceptional taste.
The Precision and Durability of Laser Engraving
Laser engraving is an advanced technology that guarantees precise and durable personalization. Unlike other marking methods, black laser engraving does not fade over time and withstands daily use. It allows the addition of symbols and complex typography, making each personalized Laguiole knife truly unique.
2 main advantages of a free personalized Laguiole knife:
A memorable gift: A personalized Laguiole knife is an original and striking gift idea to celebrate a special event, such as a birthday, wedding, retirement, or communion. This personalized present demonstrates your attention and esteem for the person you are giving it to.
Added value: Personalizing a Laguiole knife increases its sentimental value. A laser-engraved knife becomes a precious item that will be memorable even after many years.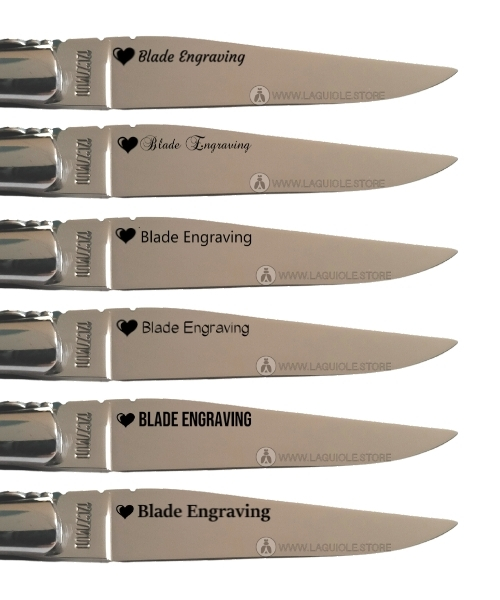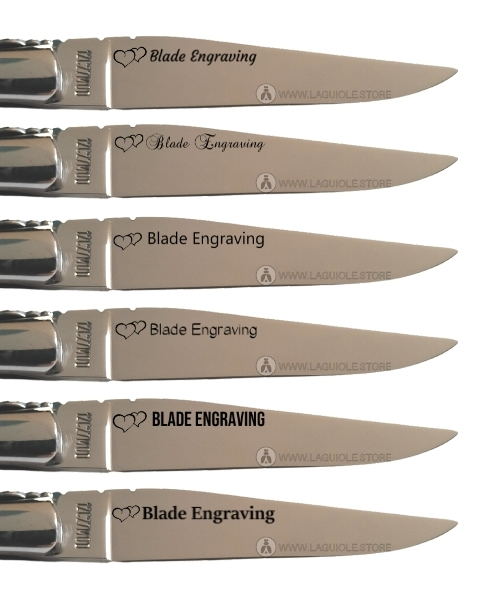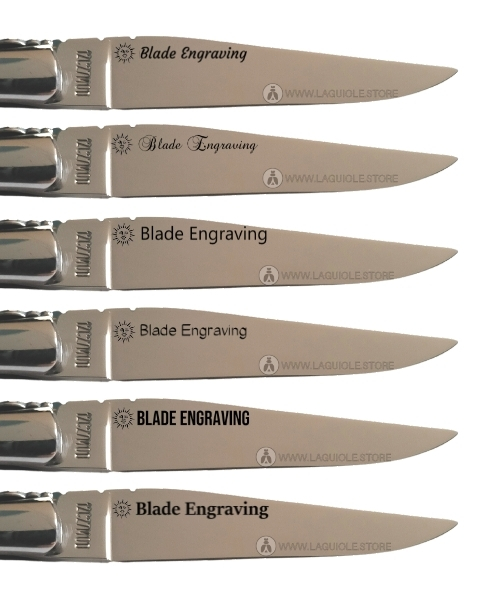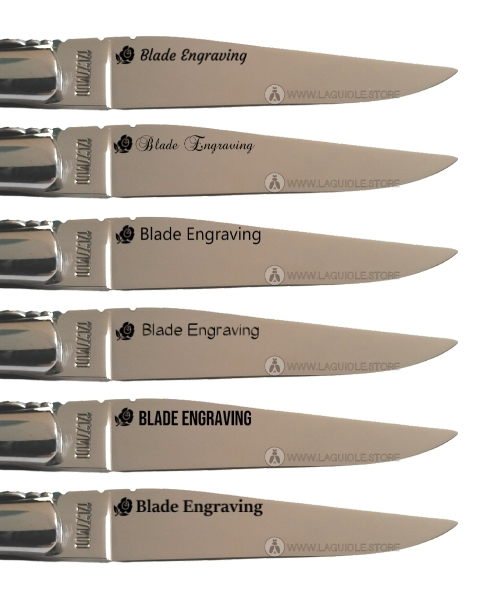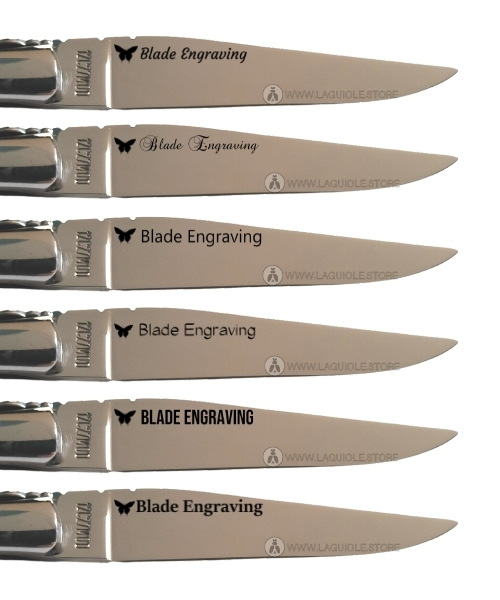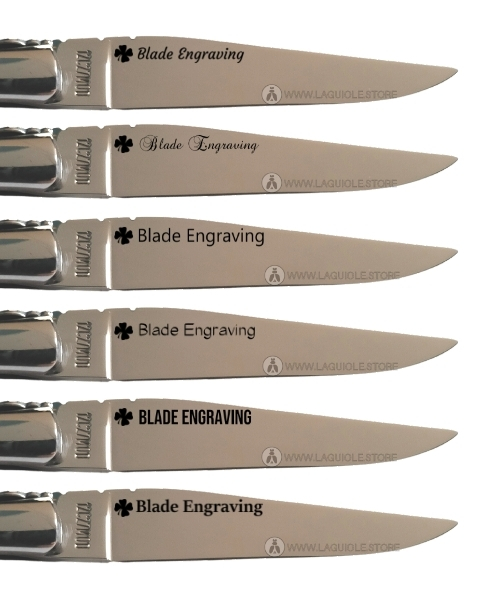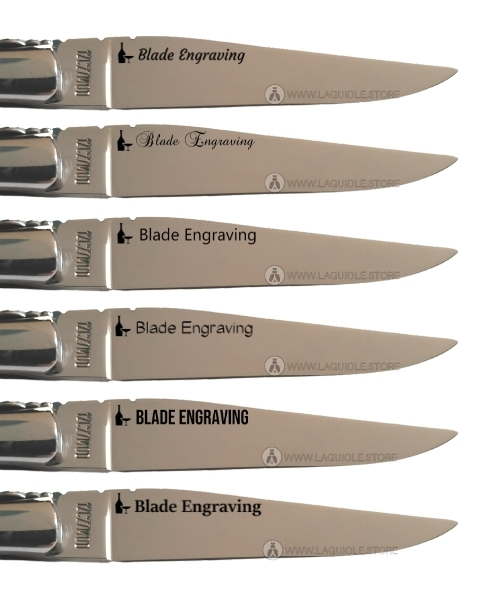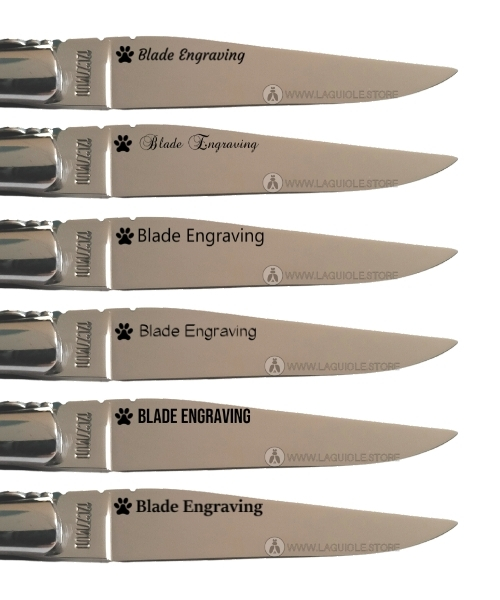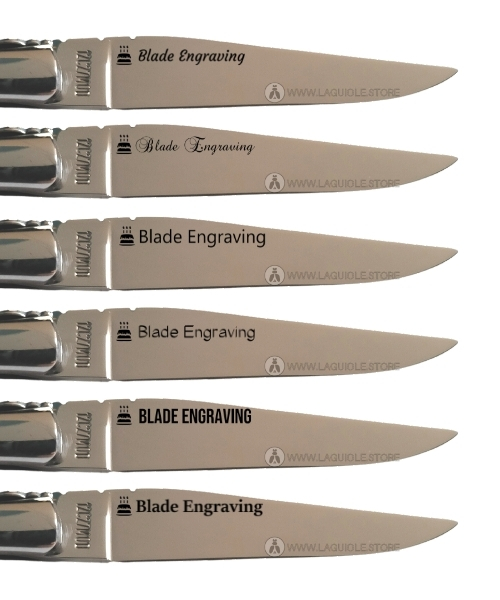 Choose a Laguiole Pocket Knife
Information for successful engraving:
Avoid long text with multiple words.
Prefer the first name and the first letter of the last name.
Select typo 4 for an all-uppercase engraving. Initials are engraved in uppercase.
The first letter is uppercase, the following letters are lowercase.
Only the modern Latin alphabet is allowed.
The engraving is always on the reverse side of the blade.
No engraving on handle/mitre material.
Number of characters allowed on folding knives: 18.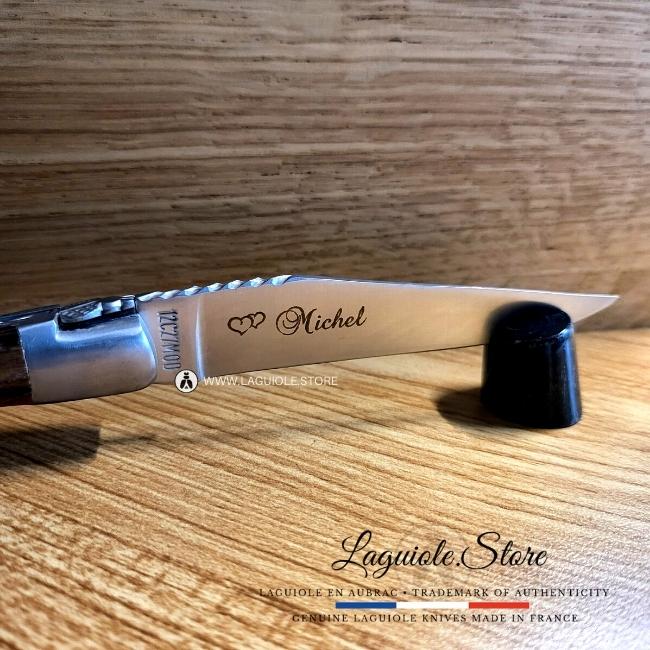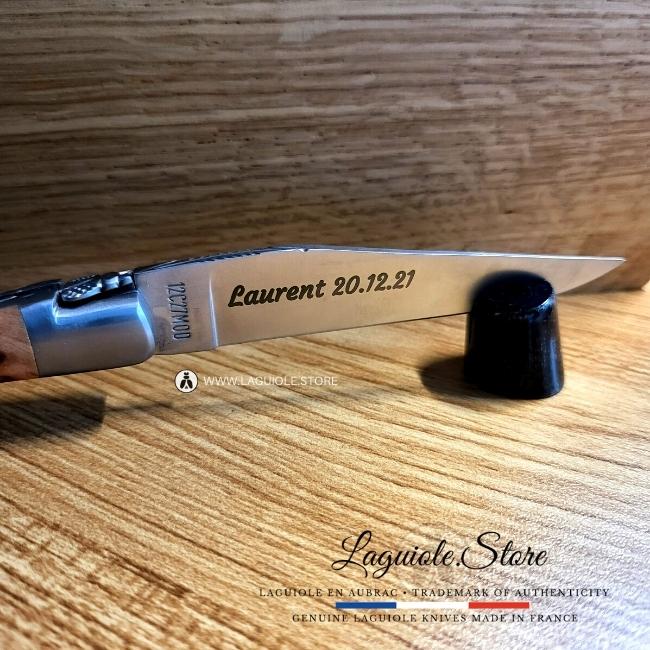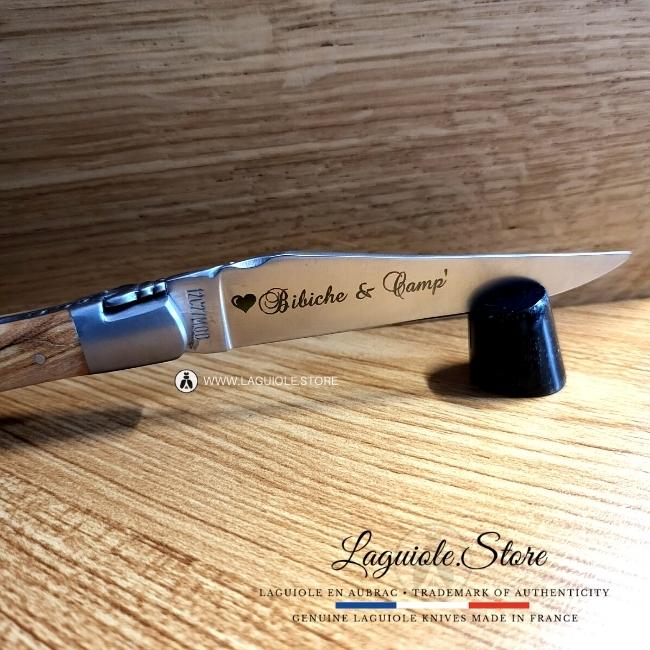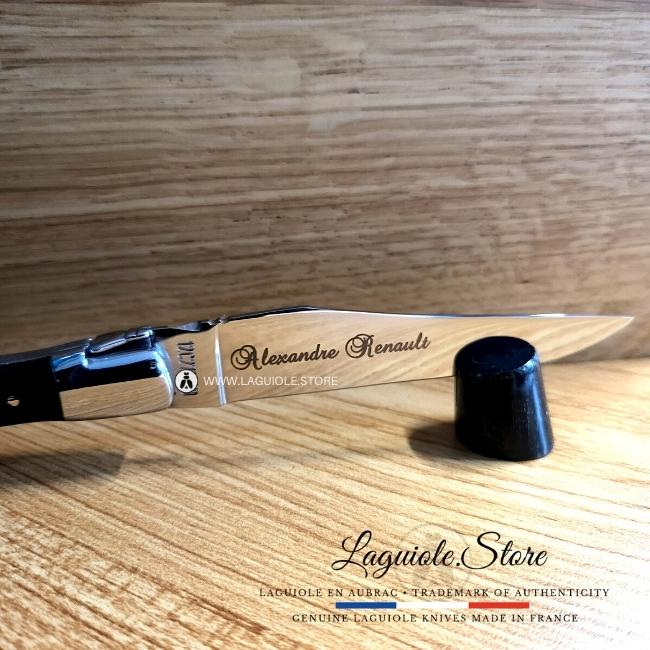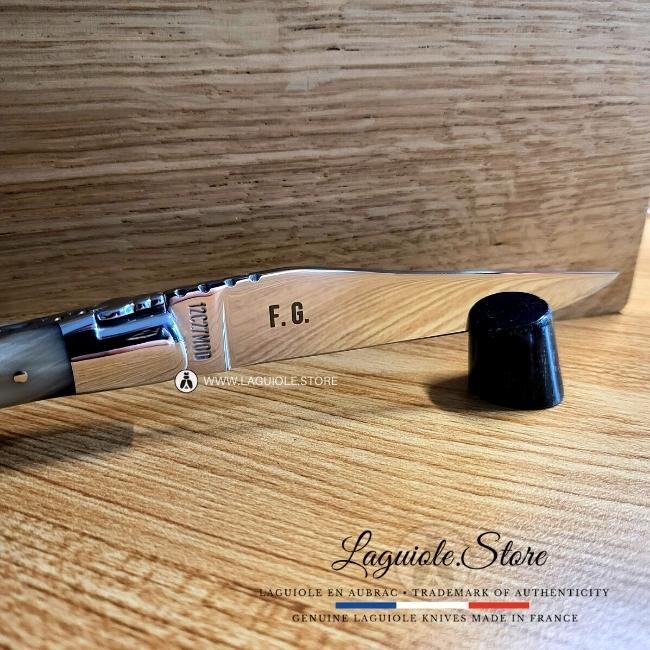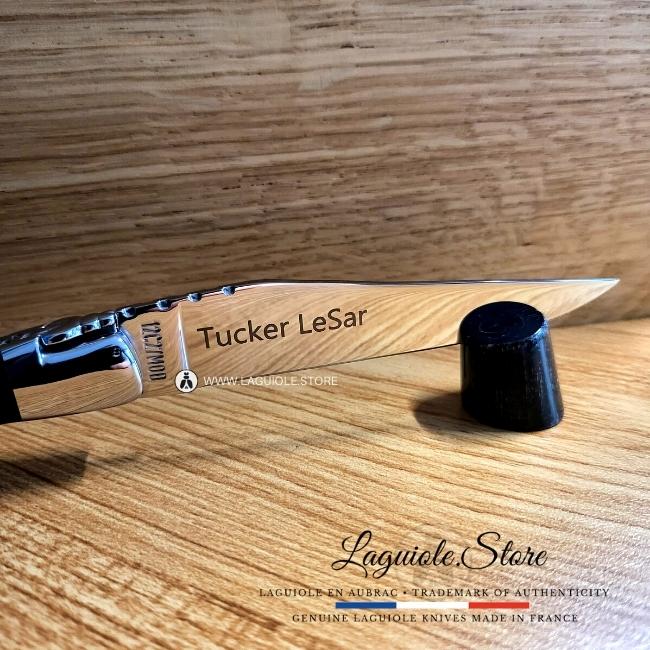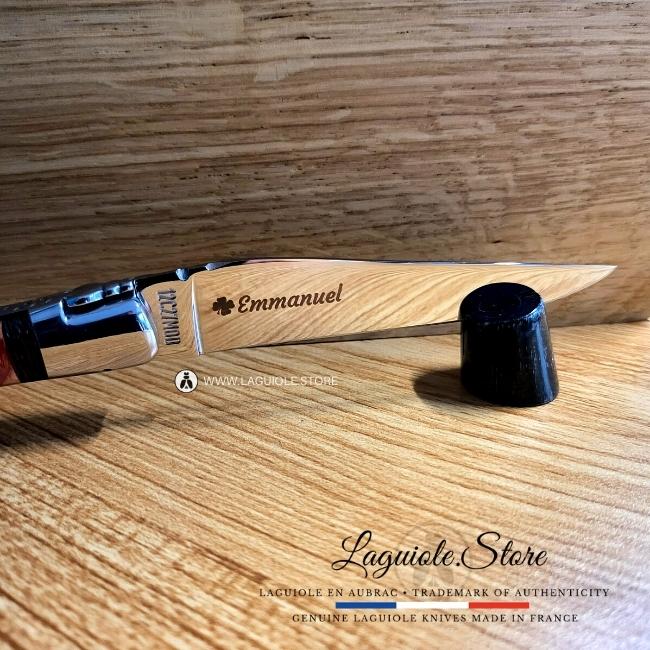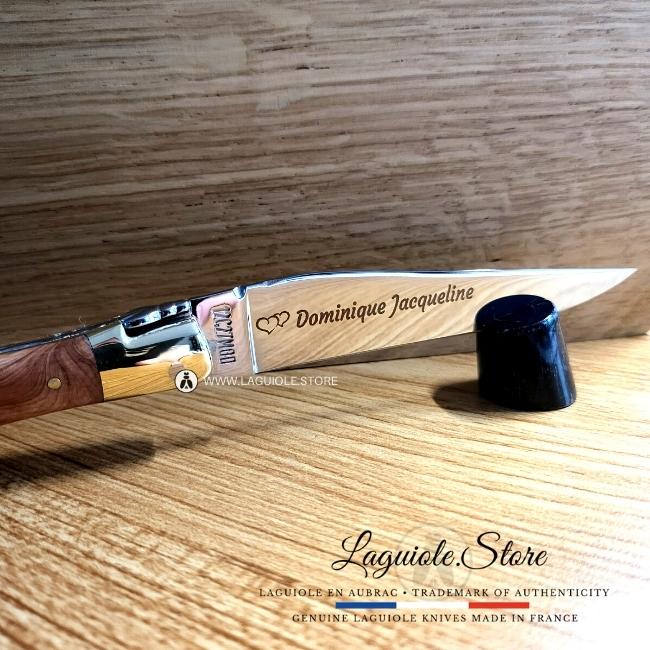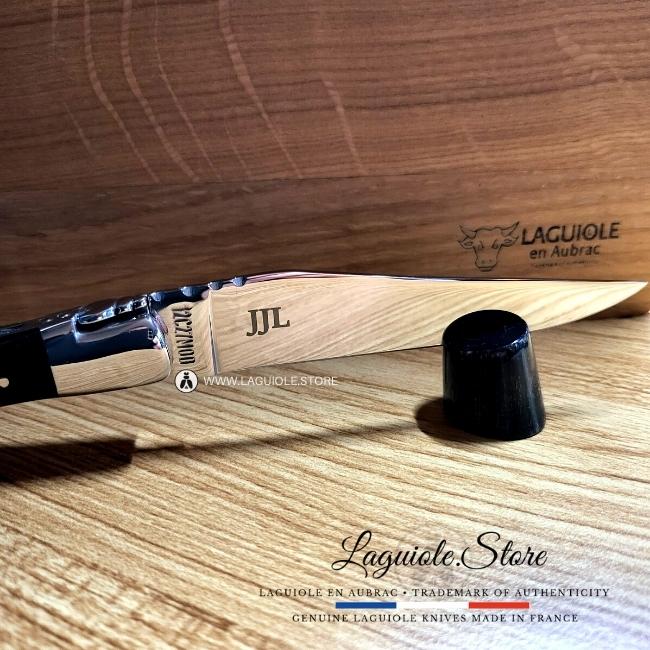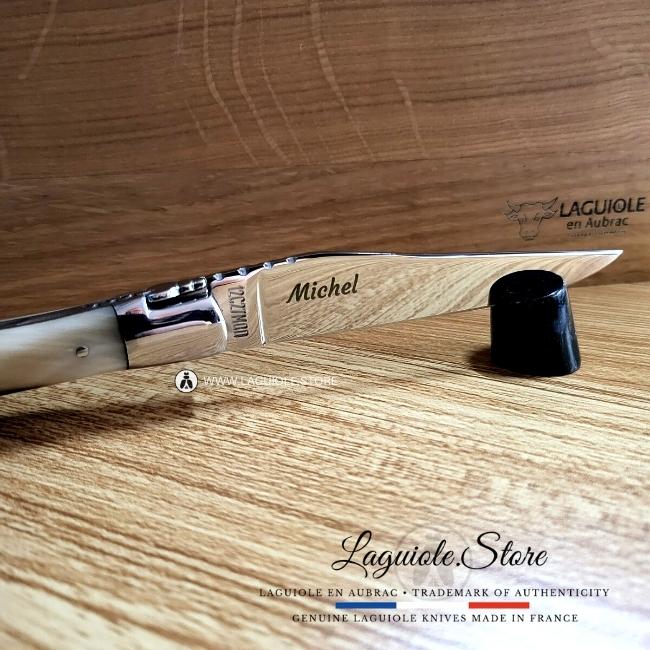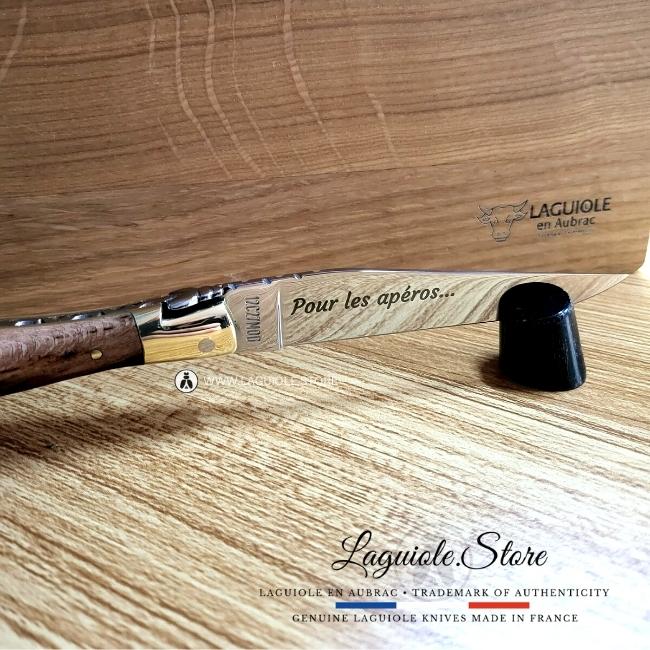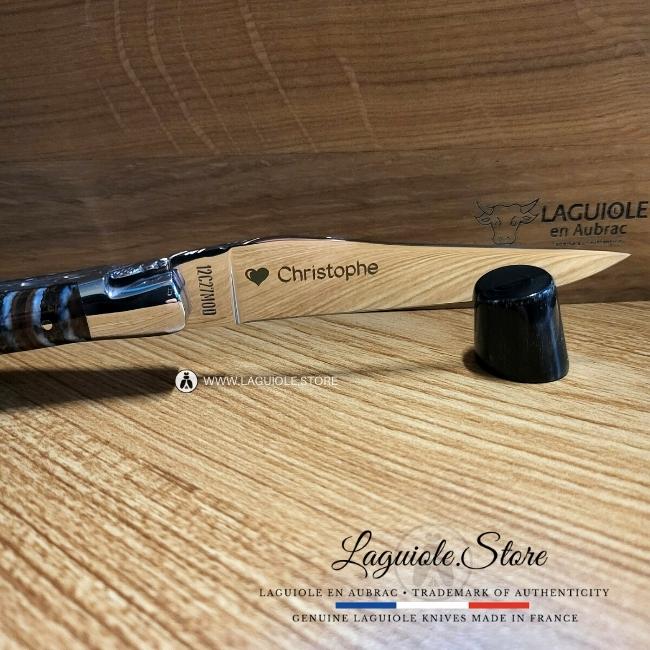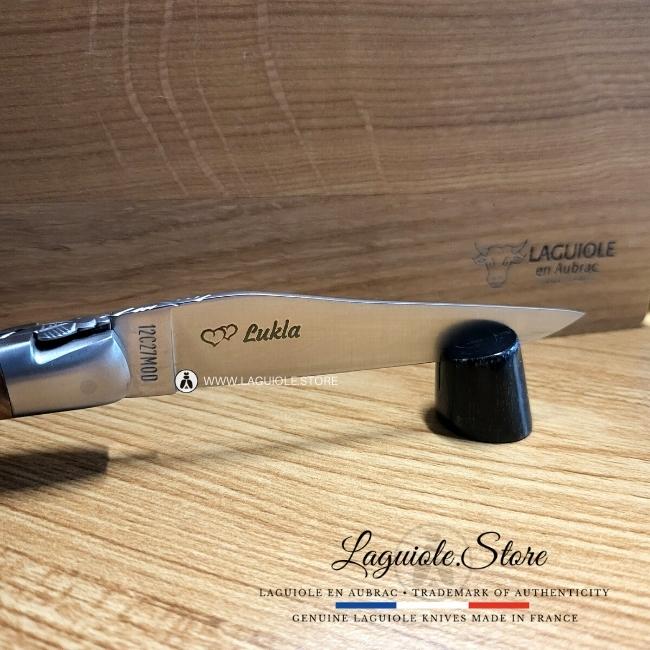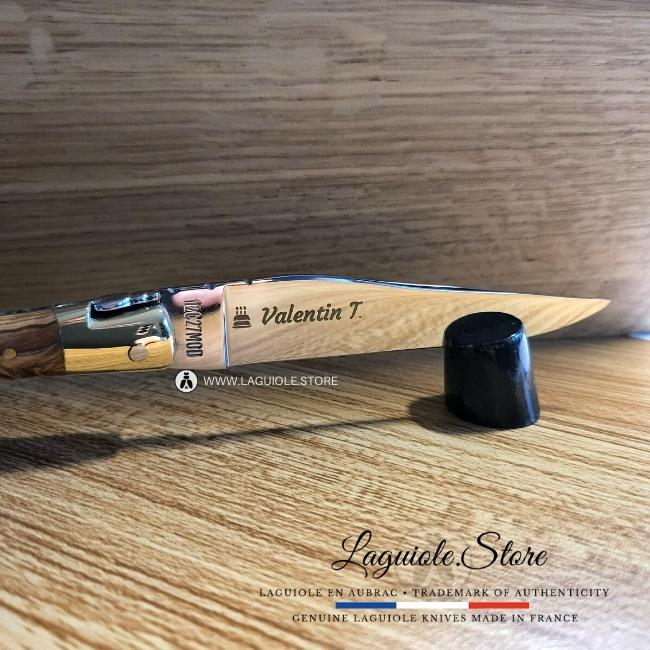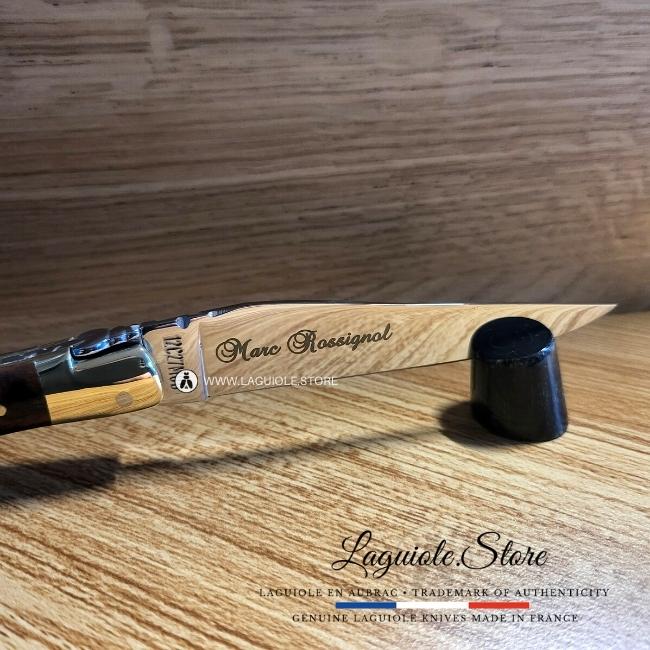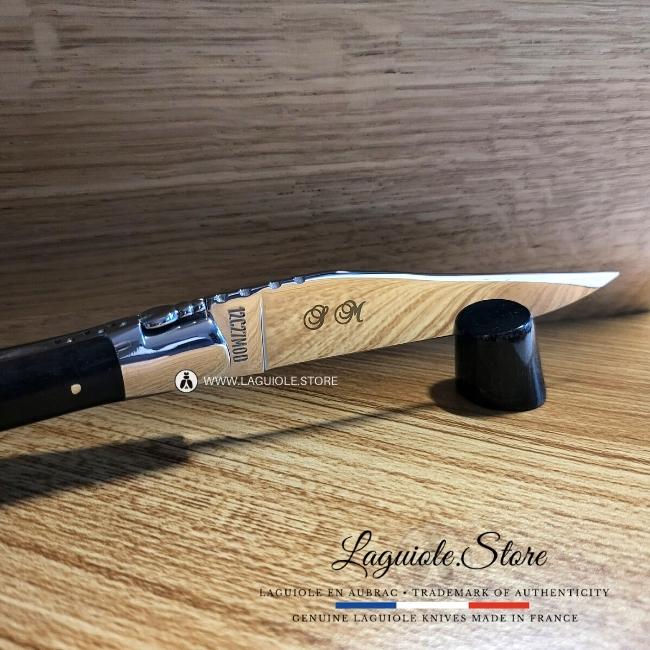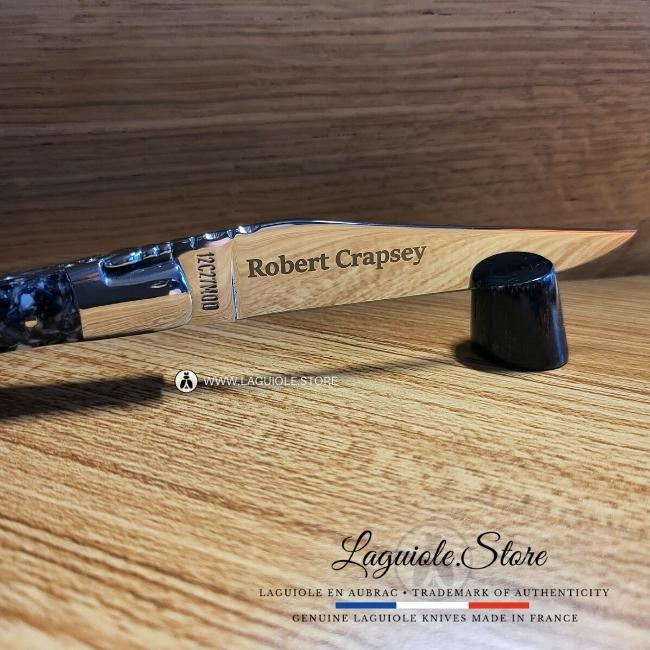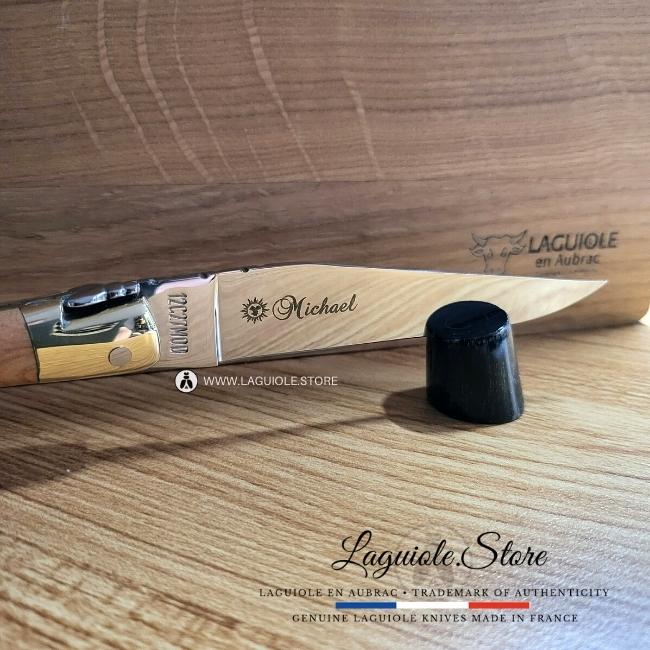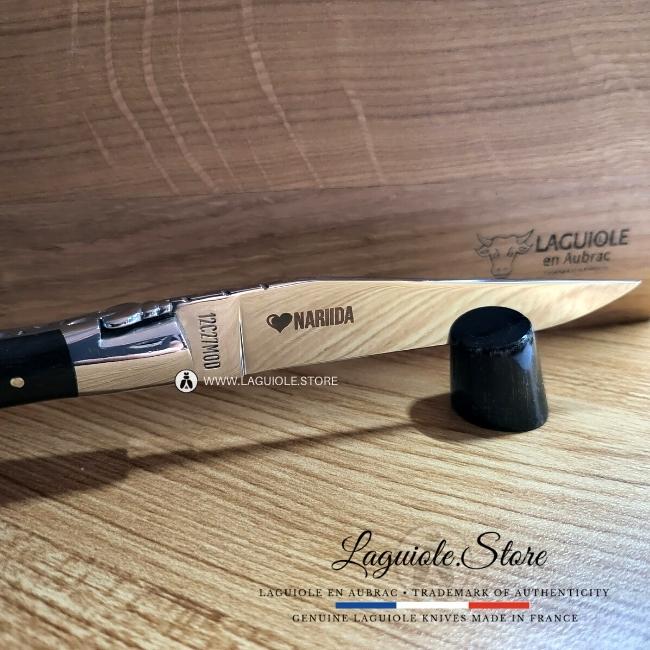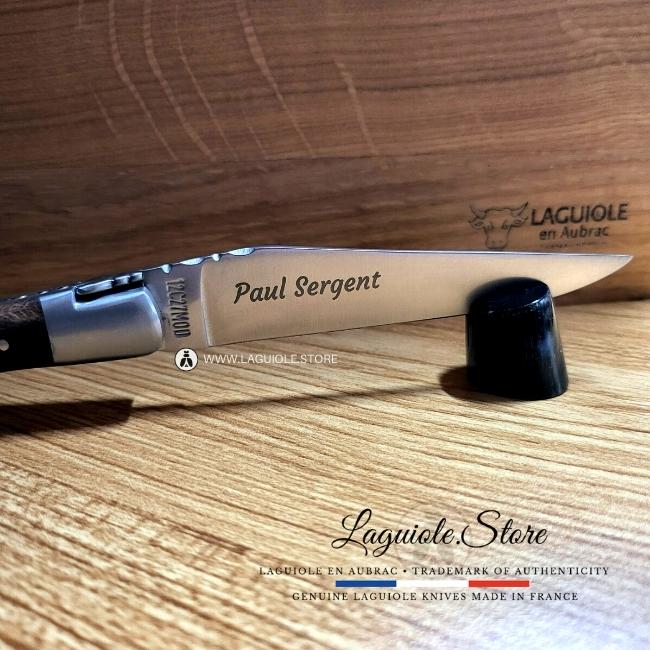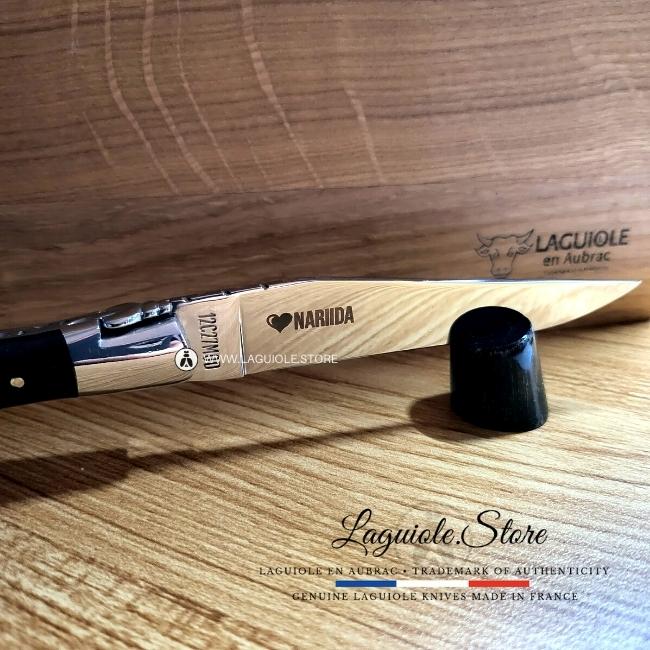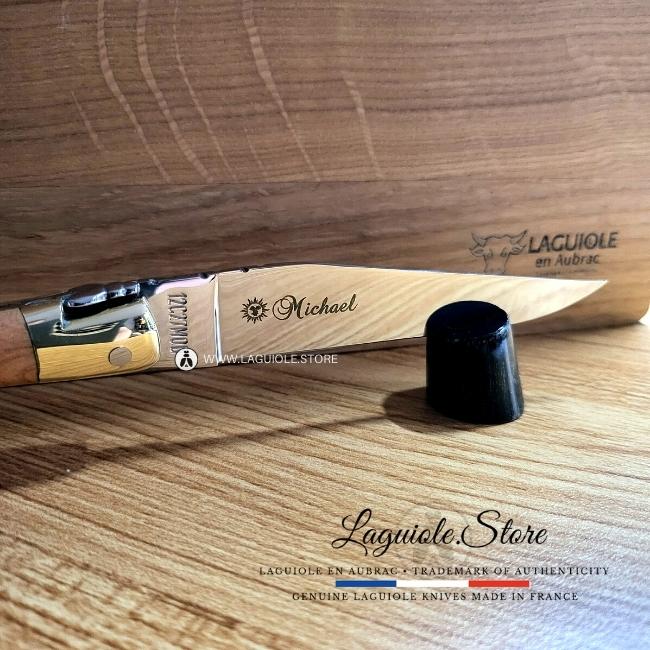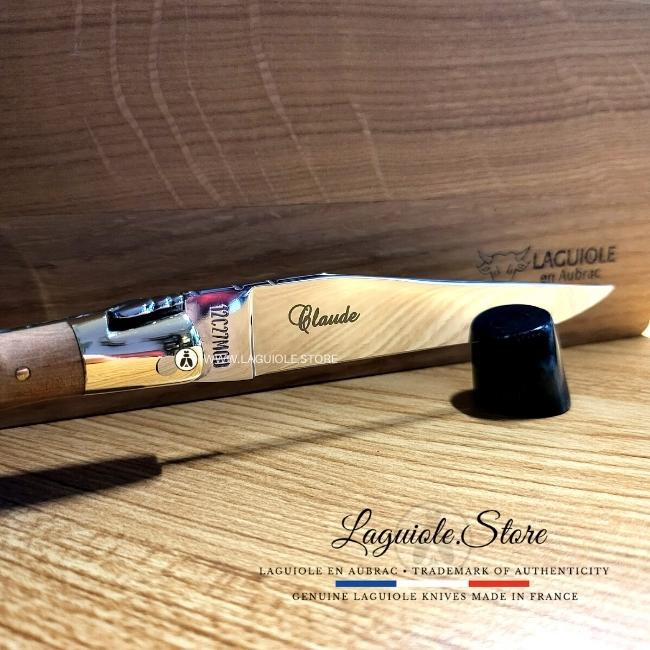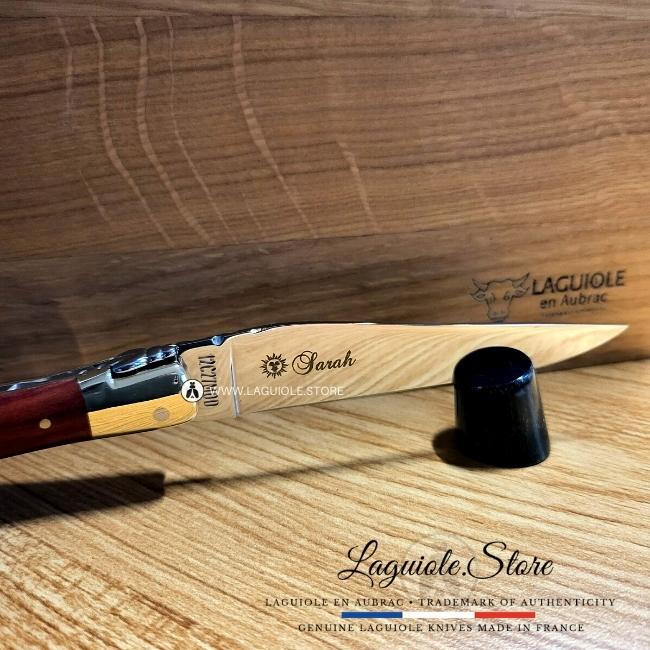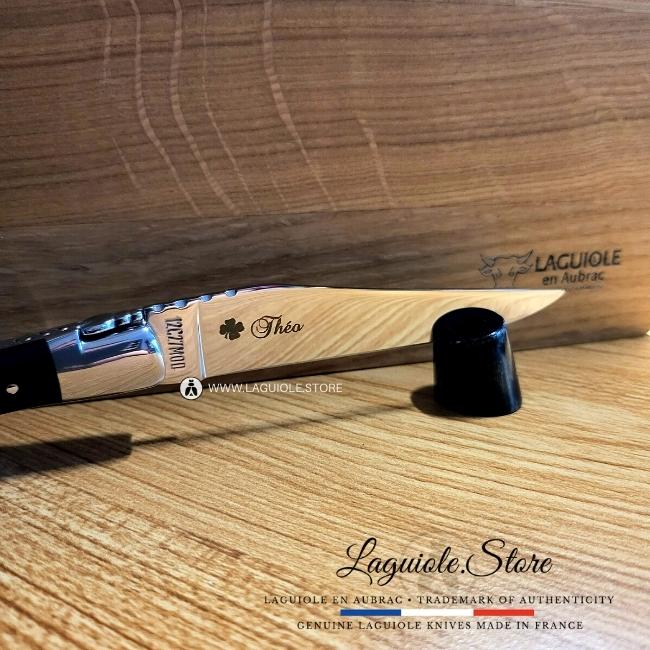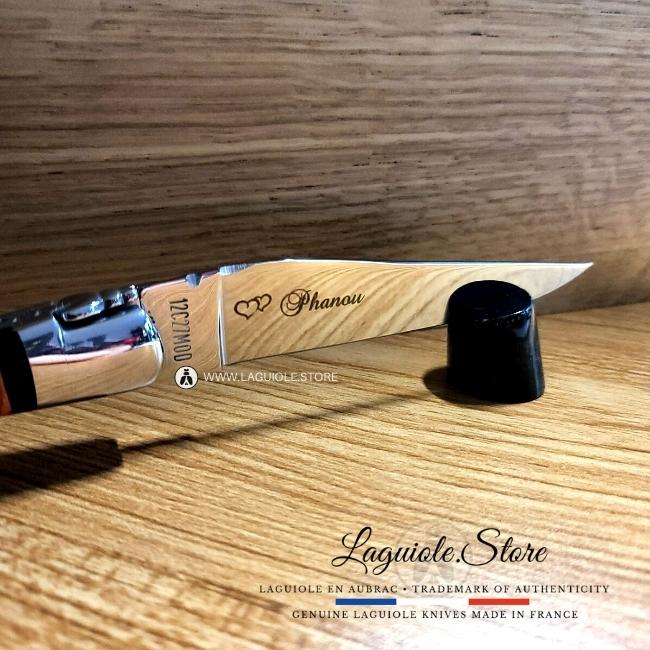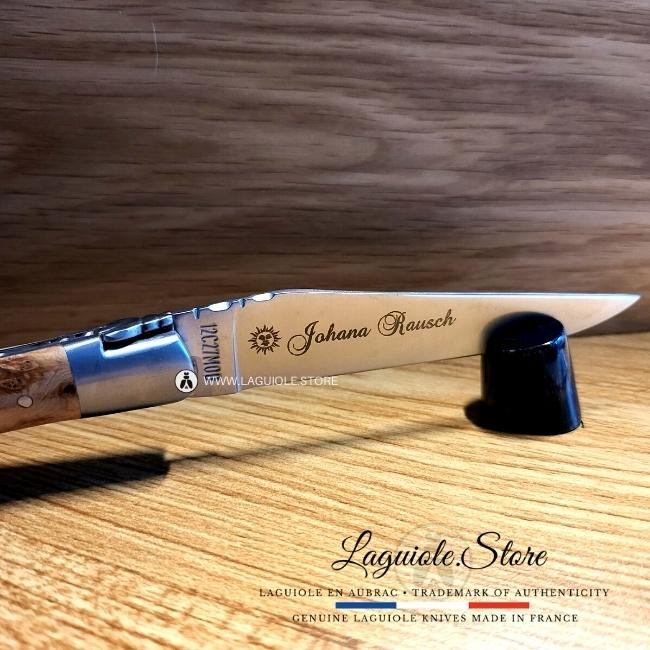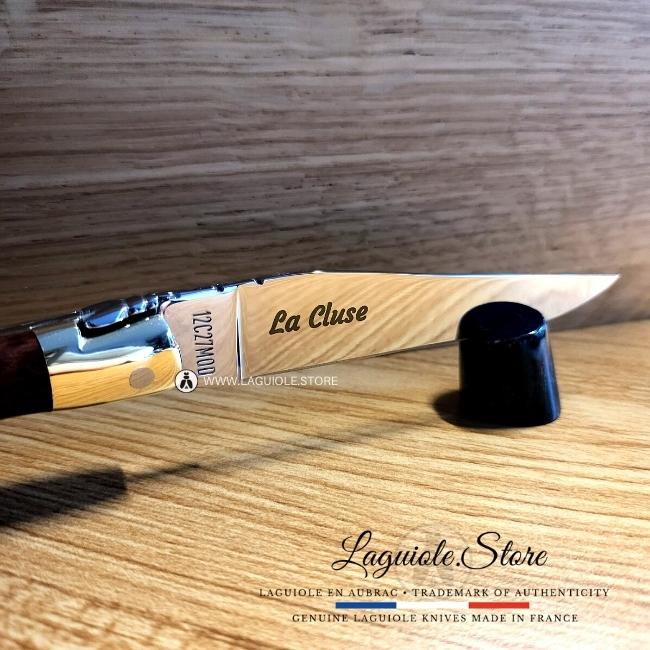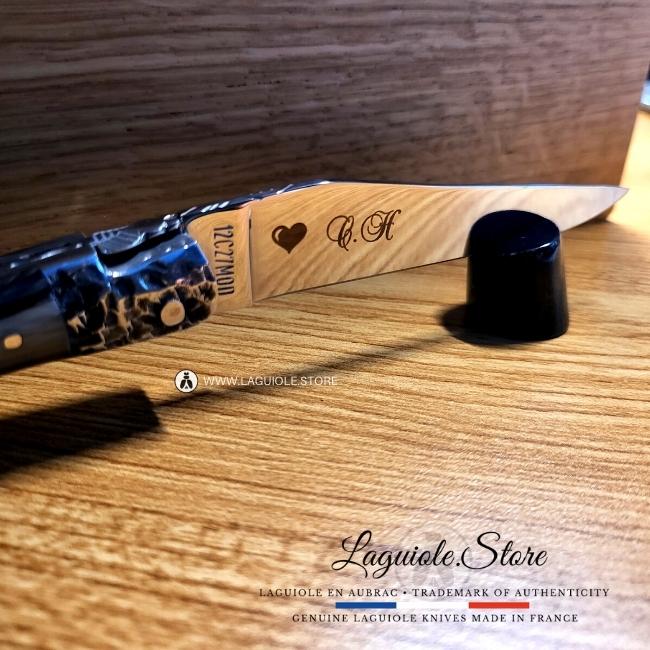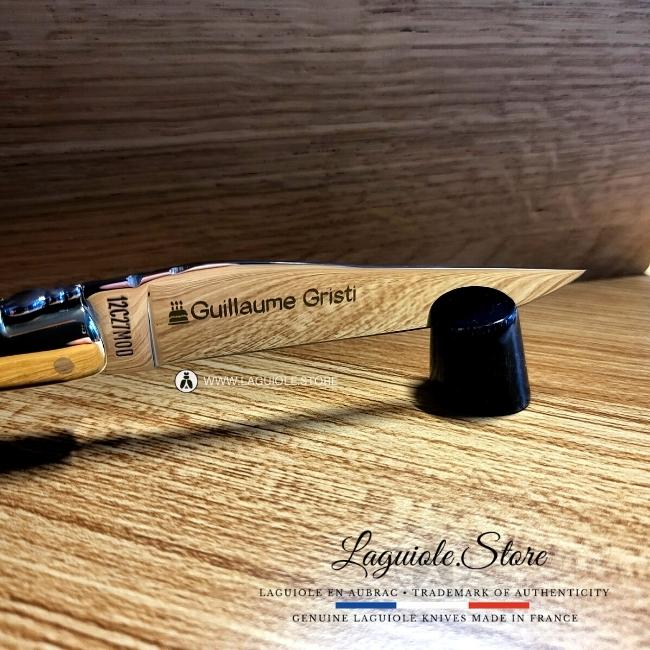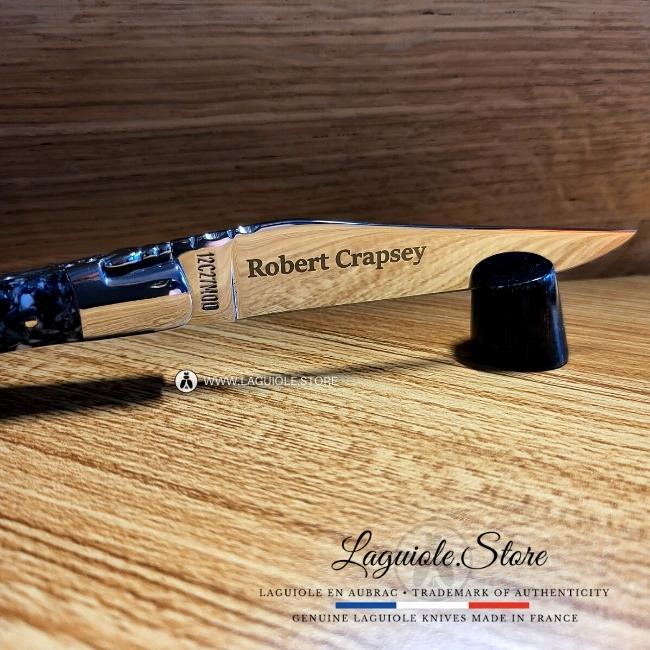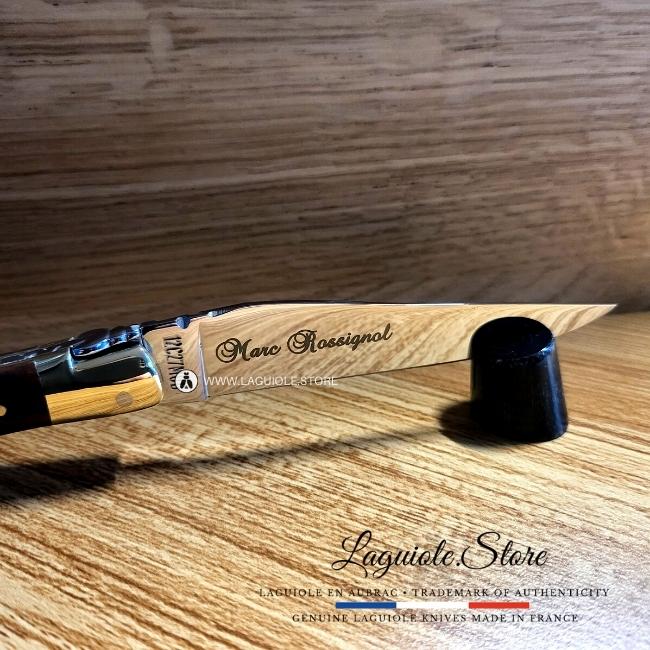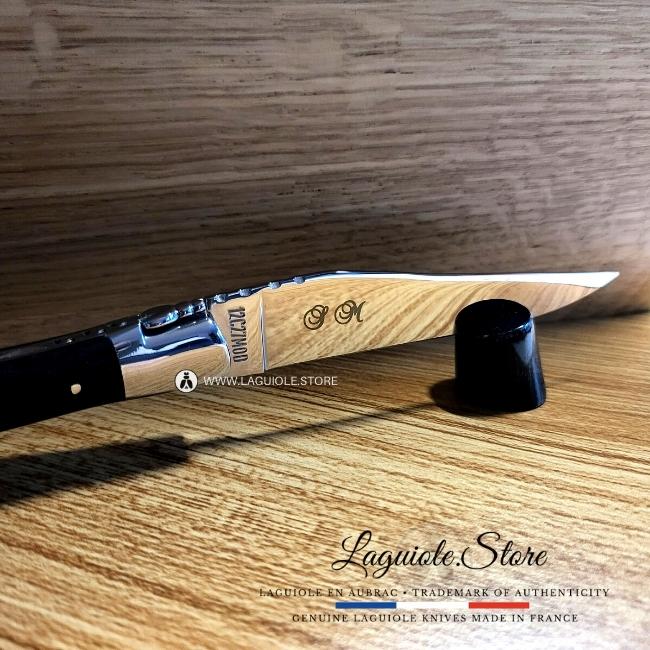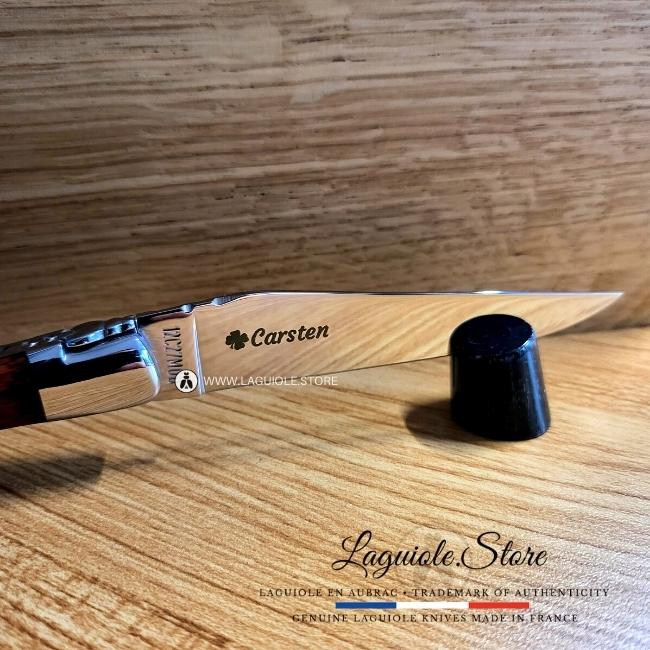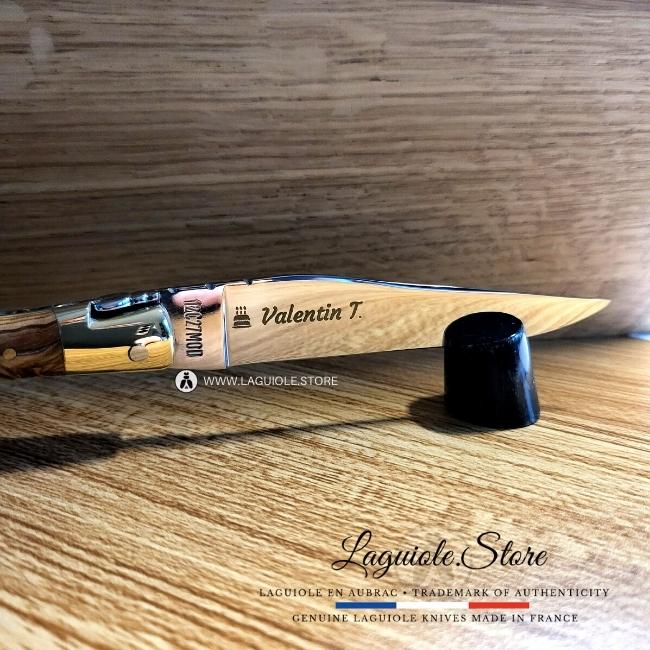 Laser Engraving: A Professional and Precise Black Finish
Laser engraving is a modern technology that uses a laser beam to mark the surface of an object. This method has several advantages over diamond engraving:
Professional black finish: Laser engraving creates a striking contrast between the original material and the marking, resulting in a sharp, professional black finish. This contrast allows for better visibility and readability of the marking, which is not always the case with diamond engraving.
Precision: Laser engraving offers unparalleled precision, capable of reproducing complex patterns and fine details with high accuracy. This precision allows for custom engravings tailored to individual needs.
Speed: Laser engraving is a fast and efficient method, ideal for projects requiring large-scale production or tight deadlines. In contrast, diamond engraving is slower and can take more time to achieve a similar result.
Diamond Engraving: A Less Visible and Less Versatile Technique
Although diamond engraving is a traditional method, it has some drawbacks compared to laser engraving:
Limited visibility: Diamond engraving creates fine, shiny lines, but these can be less visible on certain materials or under certain lighting conditions. This low visibility can make the marking less readable, less appealing, or even disappointing.
Less versatile: Diamond engraving is mainly suitable for hard materials, such as metal, glass, or stone. In contrast, laser engraving can be used on a wider variety of materials, including wood, plastic, leather, and even some fabrics.
In conclusion, laser engraving is a wise choice for those seeking a professional, precise, and highly visible black marking. Compared to the less visible and less versatile diamond engraving, laser engraving offers superior results in both visual and qualitative aspects. Choosing laser engraving means opting for a modern and efficient personalization method to enhance your Laguiole knife and add a touch of uniqueness.
Furthermore, laser engraving is also more environmentally friendly, safer, and more reliable than diamond engraving, as it does not require direct contact with the object's surface, thus reducing the risk of damage.