Laguiole en Aubrac: The choice of blades – Mitres & Plates
FOREWORD : FOOD SAFETY STANDARDS
---
The European Union imposes, as in every country, that the minimum of chromium present in each metallic element intended for food is 13% minimum to be considered as an element 100% corresponding to food standards. This being respected on all of our so-called "stainless" products.
Laguiole en Aubrac – Stainless steel Blades
Sandvik 12C27MOD stainless steel is a martensitic chrome-plated stainless steel, optimized for cutlery. (Martensity is a metastable phase of steels, resulting from the transformation without diffusion of γ austenite below a martensitic temperature.)
After heat treatment, its carbon and chromium composition gives it a unique combination of properties: very high hardness, no corrosion / rust, very good wear resistance.
As you might expect, neither lead nor cadmium is used in the metal components of our products. They are hazardous to health and can never be found on knife blades or other accessories from our high-end manufacture.
---
The  stainless steel blades 12C27MOD Sandvik, are composed of: Carbon: 0.5%. Silicon: 0.43%. Manganese: 0.51%. Phosphorus: 0.013%. Suffers: 0.0009%. Chromium: 14.27%. Steel: last%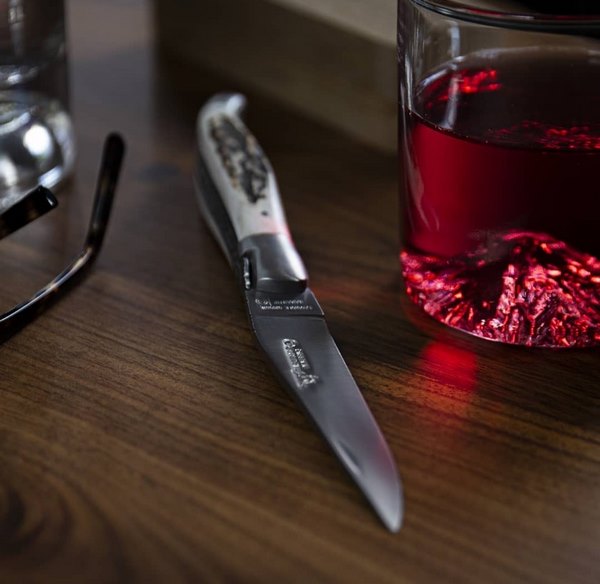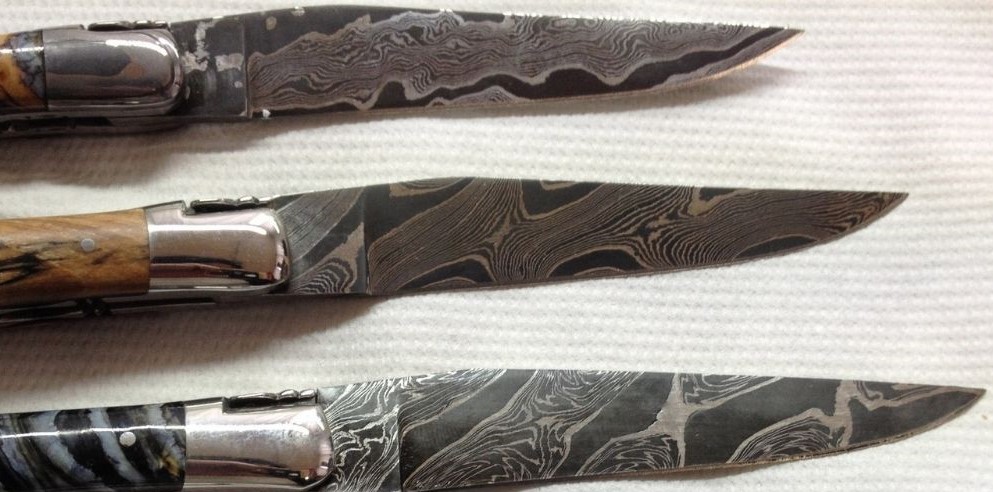 XC75 Carbon Blades
The XC75 blades are made of so-called "carbon" steel of a lower quality than stainless steel. Its sharpening is easy, but must be more regular. Most of the knives of the past were mostly mounted like this. Made up mainly of iron and carbon, this blackened blade oxidizes and can even give food a metallic taste. Although always assembled in the workshops, we do not offer this type of blade on this site.
Damascus Carbon Blades
Find a page dedicated to Laguioles damask blades including a video retracing the main stages of production.
Stainless steel or brass bolsters and plates ?
Laguiole made of brass: bolsters and plates
Bolsters, plates and rivets are in brass. The spring and axles are made of stainless steel. The polish will always be shiny on these models. The bee is forged on majority of them. Only 6 knives made of pressed horn handle are welded.
Laguiole knives - brass













Laguiole stainless steel knives: Blades, bolsters, plates, springs …
With or without corkscrew, blades, bolsters, plates, rivets and spring pins are made of 12C27MOD stainless steel. The entire knife is polished shiny or satin. The bee will be forged on the spring and chiseled.
Laguiole knives - Stainless steel








The stainless steel bolsters are made of steel called 304L and are made of: Carbon: 0.19%. Silicon: 0.43%. Manganese: 1.78%. Phosphorus: 0.032%. Suffer: 0.001%. Chromium: 18.10%. Nickel: 8%. Nitrogen: 0.07%. Steel: last%
The plates and the bees are made of steel called 1.4016 F17 and are made of: Carbon: 0.04%. Silicon: 0.39%. Manganese: 0.53%. Phosphorus: 0.025%. Suffer: 0.001%. Chromium: 16.10%. Steel: last%
Chiselling on Spring and plates
Laguiole 1 plate: Classic decoration by default
The models of the classic range have a sober decoration on the spring, their plates are smooth.
Laguiole Classic Range

Double chiseled plates
The "guilloche" decoration is an ornamentation following the inspiration and preferences of the craftsman cutler. Thus producing almost unique pieces every day. The two decks are decorated above and below!
Laguiole Doubles Plates

additional information on these pages