Laguiole Knives Double Plates
Laguiole en Aubrac® is the emblematic manufacturer of the French folding pocket knife. Whether in the form of double plates, or classic range!
Our Laguiole knives are handcrafted with the greatest respect for the Aveyron cutlery traditions.
Laguiole en Aubrac is an internationally renowned family-friendly workshop in which a team of cutlers and blacksmiths manufacture and assemble the parts of your Laguiole knives double plates from start to finish.
Special features of Double Plates knives
The double plate Laguiole models are increasingly appreciated by our customers in our physical stores.
Hence this vast choice on our online site.Often preferred by men because their handles are slightly wider than the classic series, they are a real masculine jewel. Richly decorated following the inspiration of our cutlers, it is rare to be disappointed by this type of knife.
No doubt because only the owner will know the smallest details and appreciate the feeling of having a unique object in hand.
Decorated above and below. Sometimes the two plates, sometimes only one, other times both in order to give free rein to artistic expression. We can not guarantee that the decoration will be the same as the picture.
This would amount to limiting artistic expression to a catalog of decorations, and we refuse to do so.It is not uncommon for owners of Laguiole knives who own one or more classic models to wish to change their selection by purchasing a Laguiole knife in this collection with double plates.
Available with or without a corkscrew, indulge yourself and discover the pleasure of folding Laguiole knives with this unique decoration selection!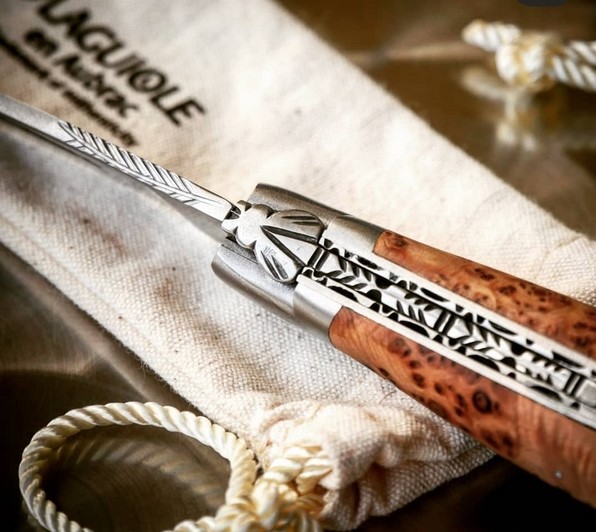 Laguiole double plate knife in detail
These pages might also interest you