Laguiole Double-Plates Knives
A unique work of guilloche and chiseling!
The collection of Laguiole en Aubrac double-plates chiseled knives is increasingly attracting interest from our customers in-store and online. The slightly wider handles than the classic models make them highly appreciated by men looking for a true artisanal jewel. With their rich decoration, these knives are often considered unique and precious objects, appreciated for their feel in hand.
Each double-plates knife is richly decorated according to the cutler's inspiration, making each model unique in its kind. Some have both plates decorated, others only one, allowing free artistic expression. We cannot guarantee that the decoration will be identical to that of the photo, as each knife is a unique piece.
Laguiole double-plates chiseled knives are exceptional pieces that combine the traditional craftsmanship of Laguiole cutlery with innovative design.
We have selected four collections of these knives from the Laguiole en Aubrac manufacturer, each with its own personality.
The classic double-plates model is a timeless design with meticulous finishes and understated elegance.
The double-plates with hammered bolsters are knives with a bolder style and impressive steelwork.
The double-plates with 3D spiral springs are more modern models that incorporate the codes of the classic Laguiole while offering a touch of whimsy.
Finally, the double-plates with corkscrew are practical and elegant knives that will delight wine enthusiasts.
Come and discover these collections of Laguiole double-plates chiseled knives and appreciate the quality of manufacturing and the artisanal know-how that characterizes the Laguiole en Aubrac manufacturer.
Laguiole en Aubrac double-plates chiseled knives are high-quality pieces, known for their unique guilloche and chiseling, as well as their timeless elegance. With their stainless steel blade, noble wood, horn or ivory handle, and hand-guilloched spring and plates, these folding knives perfectly reflect the traditional craftsmanship of the Laguiole region for over a century.
More and more customers are turning to this double-plates collection for its beauty and unique character. On this site, you can discover a wide range of different models to find the one that best suits your tastes and needs.
Join the owners of Laguiole en Aubrac double-plates knives and enjoy the incomparable experience of having a work of art in the palm of your hand.
BUY YOUR CLASSIC LAGUIOLE Double plates
The range of Laguiole double-plates knives is a popular choice for collectors and connoisseurs of high-end knives. With their stainless steel bolsters and two chiseled plates, these models offer a classic and timeless look, perfect for those looking for an authentic Laguiole knife, traditional in shape with a touch of originality.
Laguiole double-plates chiseled knives with hammered bolsters in olive wood, horn tip or juniper offer a touch of originality with their unique finish. The hammered bolsters add texture and additional visual appeal to these Laguiole knives, making them one of a kind.
For Laguiole knife connoisseurs looking for a more modern model, double-plates designs with olive wood spiral spring, pistachio wood or juniper wood offer an elegant and innovative option. The spiral spring adds a touch of sophistication and style while maintaining the iconic features of Laguiole knives.
Finally, our collection of Laguiole double-plates knives with corkscrews is ideal for wine enthusiasts. With their sharp blade, sturdy spring, and practical corkscrew, these Laguiole knives are perfect for wine tastings or meals with family and friends.
We invite you to discover our selection of Laguiole en Aubrac double-plates chiseled knives, as well as our other collections, on our website. With their elegant design and exceptional quality, our Laguiole knives will captivate you and accompany you faithfully over the years.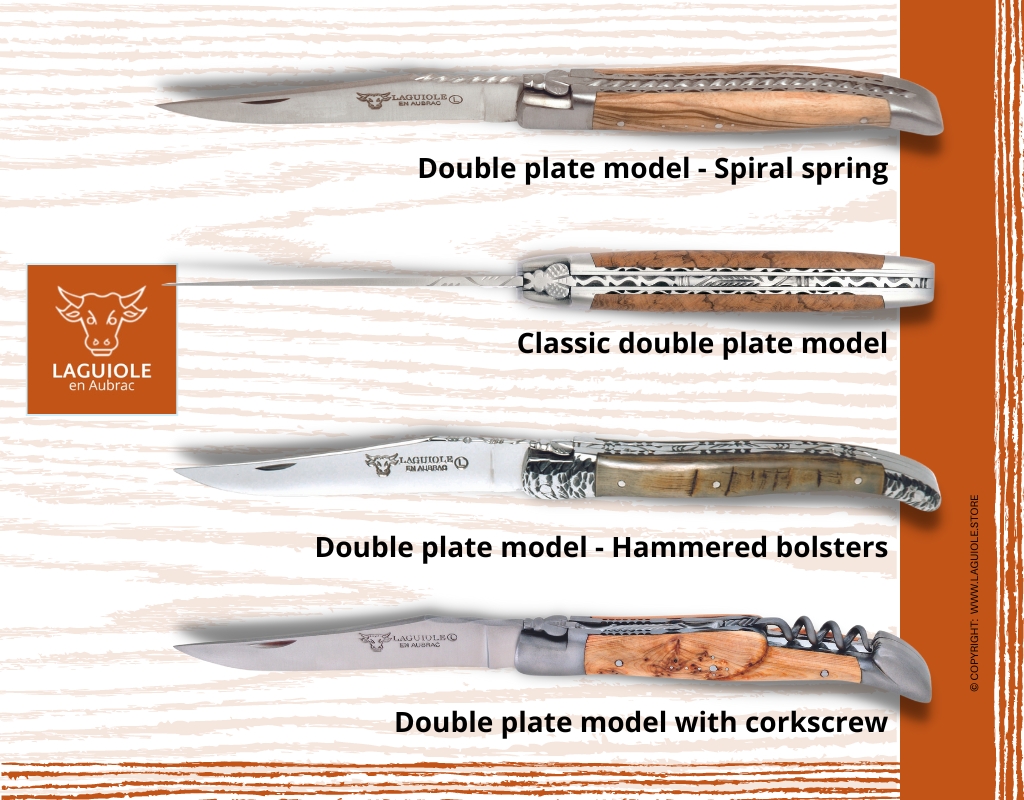 CONTINUE YOUR DISCOVERY WITH THESE ADDITIONAL PAGES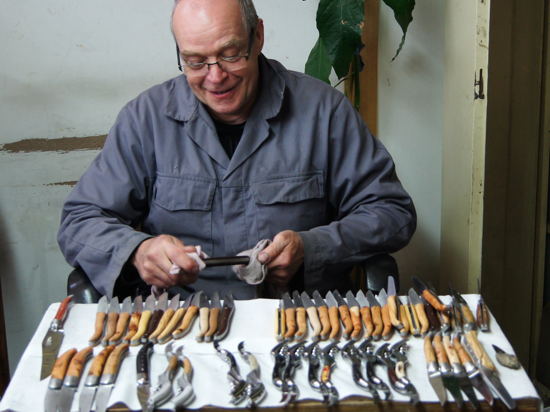 Knifemaker's Workshop
Under the workshop manager's supervision, Laguiole en Aubrac not only has a woodworking workshop and a forge but also its own assembly workshop. In this workshop, each knife is assembled by the same artisan knifemaker, ensuring constant attention to detail and impeccable quality.