The Knifemakers' Workshop
Handcrafted by our master knife makers
Laguiole en Aubrac® maintains the traditional know-how of the very first Laguiole knives: each knife maker is responsible for adjusting, shaping, polishing each folding knife himself.
---
In addition to its manufacturing workshop and its forge, the workshop has the particularity of having its own carpentry workshop which allows it to work with wood, bone, horn and mammoth ivory delivered to the raw state and select the most noble parts.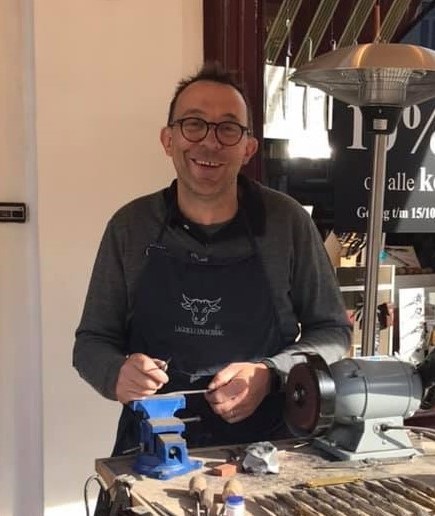 Thierry Valat – K
nifemakers
Foreman of
Laguiole en Aubrac
---
Thierry Valat, trained at the "boule school" and specialized in marquetry, is the workshop manager. He supervises and coordinates all the activity of the production sector. Beyond the tasks of distributing the production and the safety of the cutlers, he manages the coordination with the other poles of the workshop, the stocks, the inputs of raw materials. Particularly professional and endowed with a good sense of communication, he ensures that deadlines are met as well as the quality of the finished product.
The main workshop consists of 3 poles :
Assembly workshop.
Carpentry workshop.
Design workshop.
Carpentry and sawing workshop
In order to offer you as many types of materials as possible, Laguiole en Aubrac has its own sawing workshop (video presentation at 1 min 20)
designing workshop
Each year, new models and collections are offered to you. Some of which have been winners at cutlery shows!
Additional information pages