Leather cases for knives and sommeliers: protection and elegance combined
The Laguiole en Aubrac leather cases for knives and sommeliers perfectly combine protection, style, and practicality. They are an essential accessory for enthusiasts of beautiful items and demanding professionals. Discover how these leather cases can protect and showcase your knives and sommeliers while being an accessory in their own right.
Optimal protection for your Laguiole knives and sommeliers
Leather cases provide effective and durable protection for your Laguiole en Aubrac knives and sommeliers. Made with high-quality leather, they prevent scratches, impacts, and damage caused by daily use and transport. Thanks to their interior lining, your precious tools will be protected from external aggressions and maintain their beauty and functionality.
An elegant and refined accessory
Laguiole en Aubrac leather cases for knives and sommeliers are more than just simple protection. They are also an elegant accessory that will add a touch of refinement to your Laguiole. Available in a variety of colors and designs, these leather cases will perfectly match your knives and sommeliers, highlighting their aesthetics and unique charm.
Practicality and versatility
A leather case for Laguiole en Aubrac knives and sommeliers is a versatile accessory that makes transporting and storing your tools easier. With their compact design and secure closure, you can take your knives and sommeliers with you everywhere with peace of mind. Some models even have belt loops, allowing you to keep your Laguiole within reach at all times.
A leather case for Laguiole en Aubrac knives and sommeliers is an ideal complementary gift that will harmoniously complete your knife or sommelier while showing special attention to detail during your purchase. Owning a leather case for your knife or sommelier means giving yourself a practical, elegant, and refined complementary gift that will appeal to lovers of beautiful items.
Leather cases for knives and sommeliers are both a protective accessory and a style element. They ensure the preservation of your tools while enhancing their aesthetics and elegance. With a leather case, you are guaranteed to protect and showcase your knives and sommeliers, while having a practical and refined accessory.
Order your leather sheath !

Discover the range of leather cases: a choice for every need and budget!
Our website offers a varied selection of leather cases for your folding knives and Laguiole en Aubrac sommeliers. Whether you have a modest budget or are looking for a high-end case, our selection of cases will meet your expectations. Discover the different types of leather cases available on our website.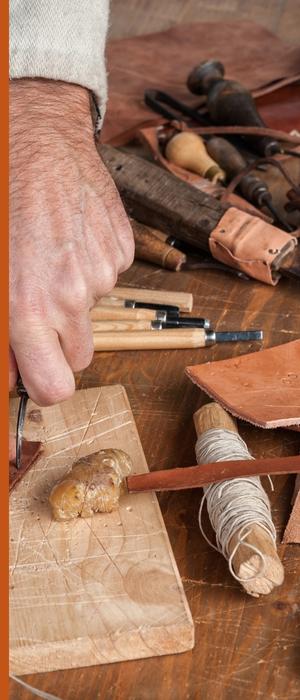 1. Entry-level leather cases: economical and functional
For those on a modest budget, we offer entry-level leather cases for folding knives. They provide basic protection for your Laguiole without compromising quality and aesthetics.
The curved entry-level leather case for sommeliers will perfectly fit the shape of the tool, ensuring optimal protection.
2. Vintage and grained leather cases: authentic style
For those who appreciate retro charm, our vintage and grained leather cases are ideal. They boast an authentic look and are designed to last. These cases are perfect for folding knives and sommeliers, adding a timeless touch of elegance to your collection.
3. Soft closed leather cases: gentle and refined protection
Our soft closed leather cases combine comfort and protection. The softness of the leather delicately wraps around your folding knives and sommeliers, ensuring effective protection against scratches and impacts. Their secure closure ensures optimal retention of your tools.
4. Belt leather cases: practicality and functionality
For those who want to keep their knives and sommeliers within reach, our belt leather cases are the ideal solution. Available with or without a sharpening steel, in black or brown, these cases allow quick and easy access to your tools. They also provide additional protection during your travels.
5. High-end pocket leather cases: artisanal elegance
For lovers of fine objects, we offer high-end pocket leather cases crafted by an artisan leatherworker. These two-tone cases, made with care and attention, demonstrate unique craftsmanship and exceptional quality. They showcase your folding knives and sommeliers while providing optimal protection.
This wide range of leather cases is suitable for all needs and budgets. From entry-level leather to high-end artisan creations, everyone will find the perfect case to protect and enhance their folding knives and sommeliers.
CONTINUE YOUR DISCOVERY WITH THESE ADDITIONAL PAGES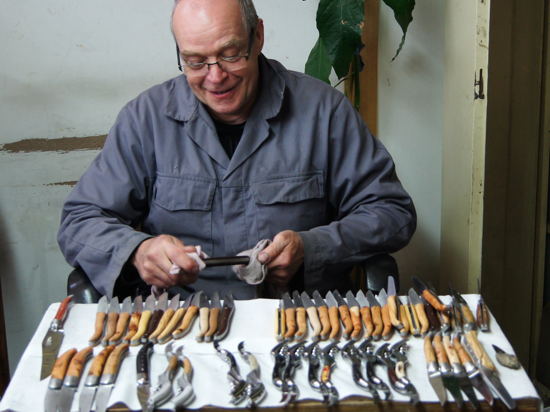 Knifemaker's Workshop
Under the workshop manager's supervision, Laguiole en Aubrac not only has a woodworking workshop and a forge but also its own assembly workshop. In this workshop, each knife is assembled by the same artisan knifemaker, ensuring constant attention to detail and impeccable quality.