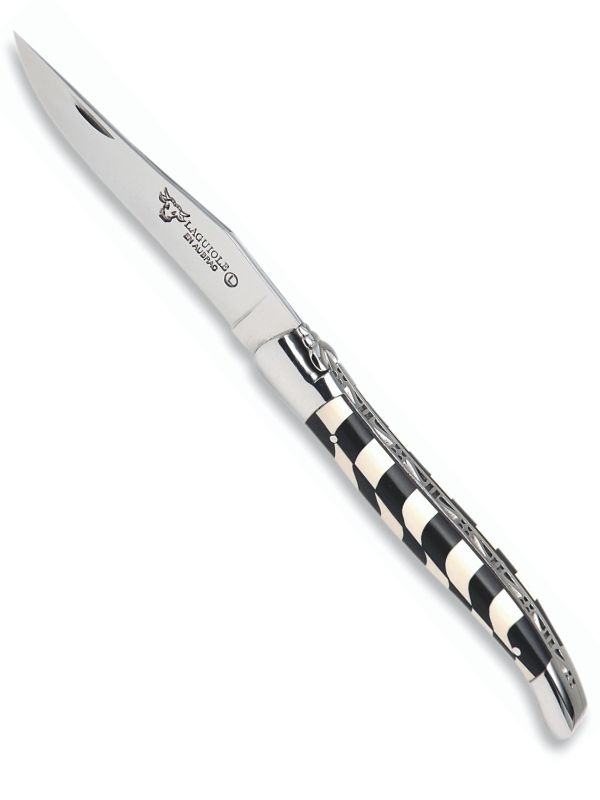 .
the excellence of a handcraft knife maker
Laguiole Folding Knives Marquetry Handles
---
The Intarse
Ancestor of marquetry, this technique appeared during antiquity, it consists in inlaying various materials such as mother-of-pearl, stone or mammoth ivory. At that time, marquetry was mainly found on buildings.
Italy revolutionized this technique by applying it to furniture in the 14th century. Thus we find the name of "wood painting" to designate marquetry.
The « marquetry Boulle »
In France, it was André-Charles Boulle, master cabinetmaker who developed an existing technique called Tarsia a incastro which revolutionized the practice of marquetry. In this method, all the veneers are stacked in a bundle. Then comes the cutting of each shape with the scroll saw known as bocfil or with the "marquetry easel" which has a very fine blade; the whole is cut with a saw. During assembly, a clear veneer is obtained which becomes embedded in the dark wood and vice versa.
Video
Elaboration of the Marquetry in video
The marquetry is a decoration made with cut or inlaid veneers according to a design, then amalgamated with a support. The results obtained can be geometric figurative or abstract.
All videos
Our selection of marquetry
195

$
EUR

:

199€

GBP

:

£175

AUD

:

$305

CAD

:

$270
Other pages that might interest you
FREQUENTLY ASKED QUESTIONS
Laguiole: The answer to your questions
Not enough time to read each of our pages? We have made a Frequently Asked Questions at the bottom of our pages to provide an answer to the most frequently asked questions!
What are the guarantees on a Laguiole Marquetry knife?
The warranty on Laguiole knives with marquetry handles is exactly the same as on all of our products. They are however more fragile if ever they were inadvertently immersed in water. We recommend that you never immerse your knives in water.