A Dazzling ASCENSION
Laguiole en Aubrac® like all artisanal companies has shown adaptation to the French, European and international markets.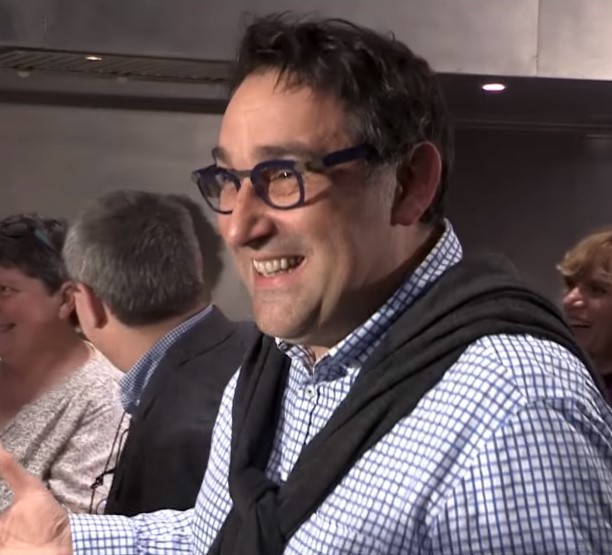 Always one step ahead
Christian Valat in a few words
---
His name has been inextricably linked to French cutlery since he decided to create his own workshop in Espalion, thus participating in the rebirth of the manufacture of the Laguiole knife in the historic area of origin.
Today, Laguiole en Aubrac employs 72 people and controls other products, such as the Sauveterre knife.
In 2007, the cutler even acquired Forge de Laguiole, when the company was going through serious financial difficulties. In 2014, Christian Valat sold his shares in the company to the Swiss Holding of Roland Jeannet. A few months earlier, he had bought Laguiole Arbalète Genès David, in Saint-Rémy-sur-Durolle. Which was subsequently bought by Honoré Durand de Laguiole.
The history of the Laguiole en Aubrac factory

A dazzling evolution!
L'histoire de la manufacture de Laguiole en Aubrac
Une évolution fulgurante !
In the 1920s, as many knives were made in Espalion as in the village of Laguiole. Rue Eugène Salettes, named after a town cutler, is living testimony to this. It is the framework chosen by Laguiole en Aubrac® to establish itself. The company was born in 1992, in Espalion, from the will of Christian Valat.
The company originally intended to sell Laguiole knives. But Laguiole, like Thiers, had difficulty supplying. And moreover, they didn't need a trading company.
With the help of two engineers and Thierry Valat, Christian's brother, trained at the Pierre Boule marquetry school, they started out in a very small workshop. Nonetheless, with the firm desire, from the start, to turn to exports to promote the know-how of Aveyronnais.
In 1993, in association with three other craftsmen from Laguiole, the Montézic forge was created. In 1996, we bought each other's shares because we were doing most of the business.
The company quickly distinguished itself by the acuteness of its commercial approach, openly focused on high-end products. In order to ensure its development, it creates its own stores, the location of which is chosen, with particular attention and all in all logic, according to the potential clientele.
The success is immediate. So much so that a second store was opened in 1995. Then, in 1999, Saint-Emilion and Paris followed, as many foreigners were passing through. These are strategic places to promote Laguiole knives.
In 2003, a new sign was created, rue Neuve, in Rodez. "A bit out of nostalgia for a cutlery dating back to 1930. An ideal showroom" for tourists from all backgrounds exploring the Aveyron.
Customers that the company will tirelessly interest in its expertise because nearly 70% of sales come from Europe.
The result of an active presence in numerous trade fairs, such as Frankfurt or Nuremberg. New York gives an international dimension to foreign customers keen on made in France craftsmanship.
Because the image conveyed by Laguiole en Aubrac is an artisanal image of creation and production in the continuity of old models of Laguiole knives. Far from the very designer models that we get tired of as quickly as sideburns.
The large knife fits well in the hand. Proof that we are not saving on the raw material (wood, horn, etc.). Because it is true, we choose to use more material. Some competitors are now making collections of "shapely". It's an amazing choice. You have to put material or not. Or make real curves with an outgrowth of the "plump" type. Otherwise nothing.
It also remains to be seen what materials: We get some wood from the bee forest in Gabon. These are the most felt, the most beautiful woods in the world. "
The massive bee has been carved out of the mass. As for the blades, they are made from Sandwick 12C27MOD steel, the ultimate.
Christian Valat does not hesitate to say it, our knives are guaranteed for life. If there is any problem, just return them to the workshop.
Who are our customers?
Most of the customers are amateurs, collectors but also neophytes who know that Laguiole en Aubrac is a manufacturer of reliable Laguioles knives!
Interview Video
Christian Valat – Laguiole en Aubrac
Christian Valat explains to you through this short interview carried out at the Maisons & Objet fair the origins of Laguiole knives and the problems of counterfeiting with which original artisans are confronted.
All Videos
The 3 main axes of the manufacture